5 August 2002: Montreal, Canada
Subject:
Iceland
Well now that I'm sitting in front of a computer with a proper keyboard I'll try and write some more about what I got up to in Iceland. I'd still love to know if there is an easy way to type accented and other odd characters - doesn't Windows have an equivalent of the "compose" key? But at least now A to Z are in the right places.
The trip got off to a very good start thanks to Eileen and Jón Karlsson - Eileen is an old friend of my Mum, and they were kind enough to give me a bed, show me the sights of Reykjavík, and then drive me half way around the island. Thanks!
Whales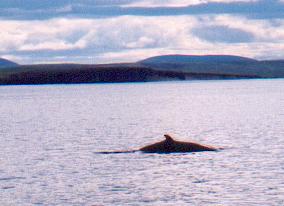 The first thing I did was to go on a trip on a whale-watching boat from Húsavík, a town on Iceland's North coast. They run about ten trips a day, on old oak fishing boats converted for the purpose, out into the fjord. We saw our first Minke whales after just a few minutes, and spent about three hours chasing them and a few dolphins and porpoises around.
Of course minke whales are pretty small, and you don't see more than their dorsal fin and a chunk of their back. This isn't like the blue whales waving their tails in the air like you see on the telly. But it's certainly worth doing.
I spent the evening climbing the hill behind the town, Húsavíkarfjall (417m) (litterally House Bay Hill) for some views of the inland countryside, and in the morning took the bus to Ásbyrgi.
Ásbyrgi to Dettifoss
The Jökullsá a Fjöllum river - litterally Glacier River of the Hills - runs from the North side of the Vatnajökull ice cap North to the sea. It's a big river, but because Vatnajökull has volcanoes unerneath it that sometimes errupt, melting huge amounts of ice, the river sometimes swells to quite enormous proprtions. As a result it has carved itself a truely spectacular gorge.
The gorge is made more interesting by the rock that it is carved through - layers of bassalt from volcanic erruptions. Occassionally the gorge cuts through a crater-row from which the lava came, leading to narrow rapids and waterfalls.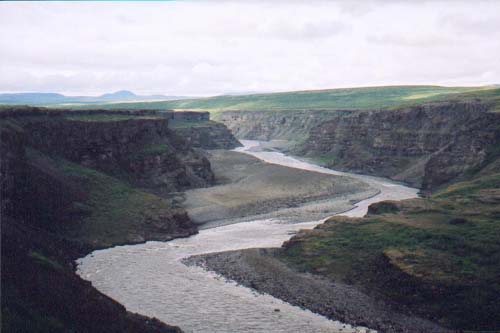 I spent two days walking the length of this gorge, from Ásbyrgi where the gorge opens onto the coastal plain to Dettifoss, the huge waterfall where the river first tumbles into the gorge. Every few hundred metres I rounded another corner to see the next bit of the gorge and to take the next photo. And the plateau surrounding it is quite interesting too, with more wild flowers than I had been expecting for an area with such an extreme climate. But the most impresive thing of all was Dettifoss - almost 200 cubic metres per second tumbling 44m. It is difficult to get a sense of scale, but it is certainly vast.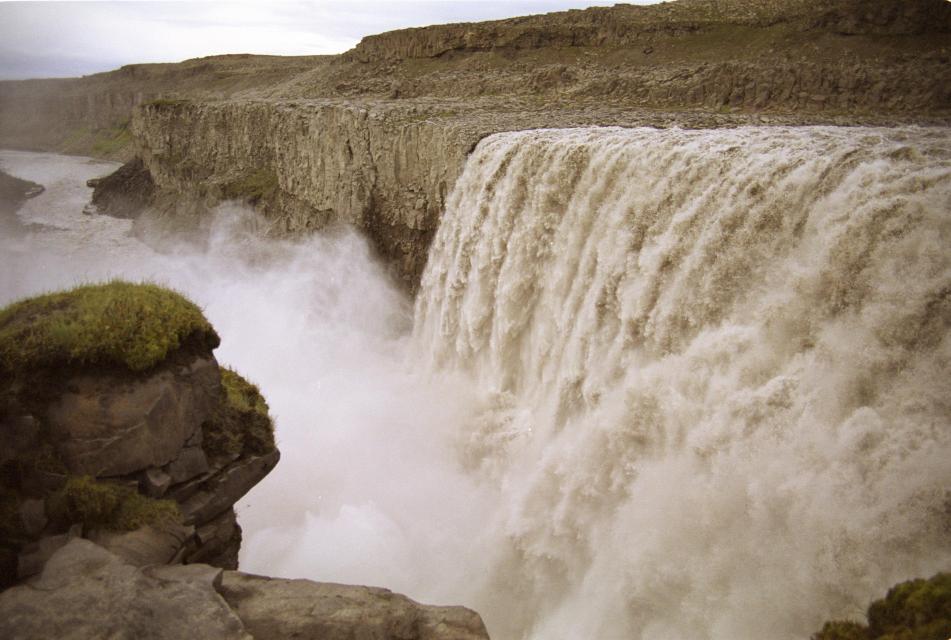 So from Dettifoss I had been considering walking further South towards lake Mývatn, but when I got up in the morning at Dettifoss campsite it was raining, and the bus seemed like the better option (what a wimp!). So I got there in just an hour or so.
Mývatn
Mývatn means midge lake, and I was a bit aprehensive about visiting a place whose entire ecosystem is based around billions of midges! Luckily the thirty species of ducks, next up the food chain, seem to be doing an excellent job of eating the larvae before they even hatch and I was not troubled by them at all.
The mid-atlantic divide runs from south-west to north-east across Iceland with the two haves moving apart at 2cm per year. Mývatn lies close to this split and beneath the area there is a large volcano whose erruptions are triggered by the tectonic movements. About 2500 years ago this was spectacularly active and practically the whole area is dominated by lava from that period; in fact the lake itself wouldn't be there if the lava hadn't dammed a river. In a couple of places you can clamber down into hot water filled chambers within the lava; elsewhere there are spectacular bubbling mud pits and steam vents. I stayed at a campsite where I could pitch my tent amongst the lava - I had a nice spot with an en suite rock shelter that I could have cooked underneath had it rained, which it didn't. I stayed there for four days; on one day I hired a bike an cycled around the lake, and on another I "walked from America to Europe", something that you can only do in Iceland!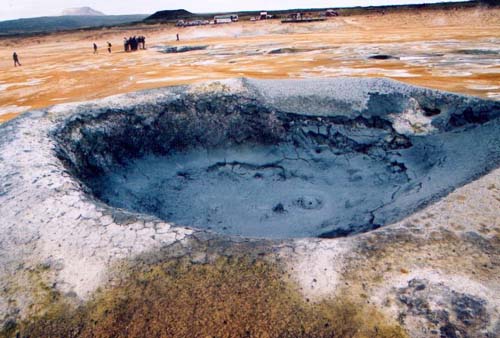 Askja
On my final day at Mývatn I took a day-long bus trip to Askja. This is a volcanic caldera a long way inland down an unmade road. We went in a four-wheel-drive bus which gave a surprisingly comfortable, if slow, ride. In places the road takes a straight line over the gravel deposited by the Jökullsá a Fjöllum, but elsewhere it twists and turns over the lava. After various interesting stops along the way - including one to view Herðabreiðafjöll, an fabulous-looking mountain that I have on my list for "next time" - we eventually got to the caldera. Askja errupted spectacularly in 1875, spewing out pumice that apparently was carried as far as Stockholm by the wind! There is enormous amounts of the stuff and it is quite bizzare to see rocks floating on water. The crater from which the pumice came is now a large lake within the caldera. Next to it is a much smaller crater, formed at the same time by a single explosion. This crater, called viti (hell), is warm - about 22ºC - and the thing to do it to swim in it, which of course I did. It was very pleasant but I did smell a bit sulpherous afterwards.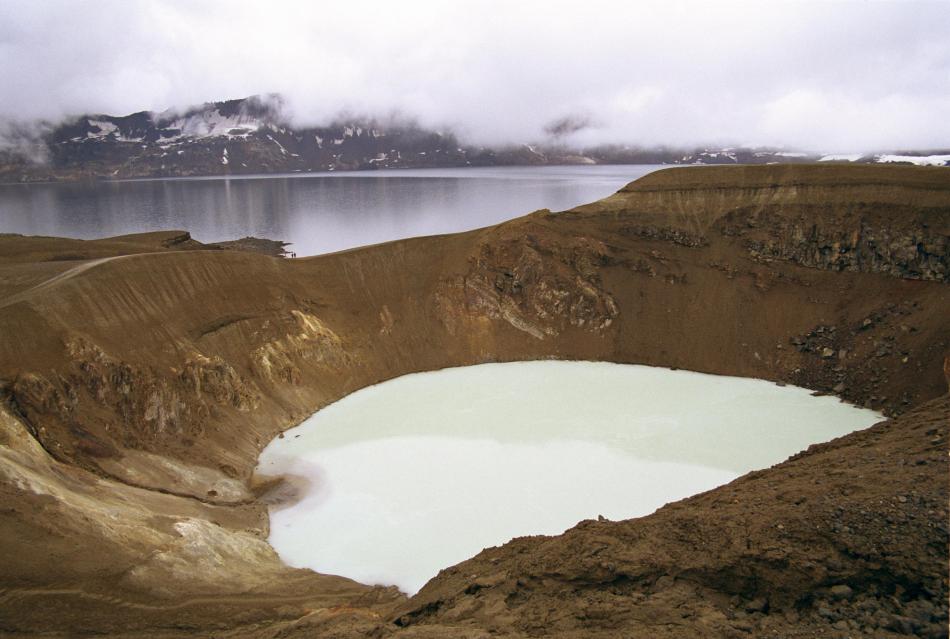 The East Fjords
I was making my way slowing around the island in a clockwise direction, and the next stop was the eastern fjords. Because of the way it has been formed from the middle, the extreme east and west coasts have the oldest rocks and most conventional geology and topography. In fact the eastern fjords could be compared with the coasts of Norway or parts of Scotland.
I got off the bus at a place called Beruness, on Berufjöður, which has a hostel and campsite. I had been planning to camp until I saw the idylic hostel. It was a farmhouse, build in the early 1900s and converted to a hostel when the farmer's family moved to a new bungalow a few yards away. I only stayed for 24 hours but it was long enough to appreciate how lovely the area is. I walked up the hill immediately behind the hostel (about 800m and very Scottish in character); the views of the neighbouring hills showed lots of promise for long ridge or horseshoe walks for anyone with the time to find their own route.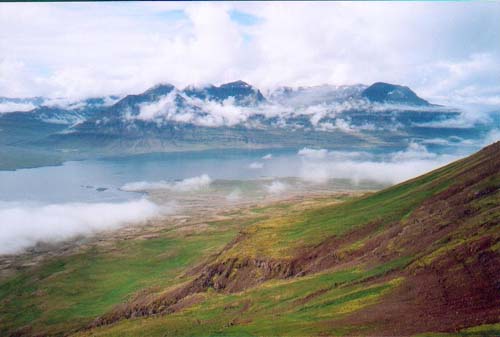 Vatnajökull and Skaftafell
Vatnajökull is a huge ice cap that covers a vast chunk of south-east Iceland. From it, glaciers flow in all directions. The bus from Beruness took me to Höfn where I sat watching and taking photos as the sun set behind the glaciers about 25km away. Then the next morning it took me first to Jökullsárlón, a pretty lagoon where one of the glaciers calves small icebergs into the water, and then on to the Skaftafell national park.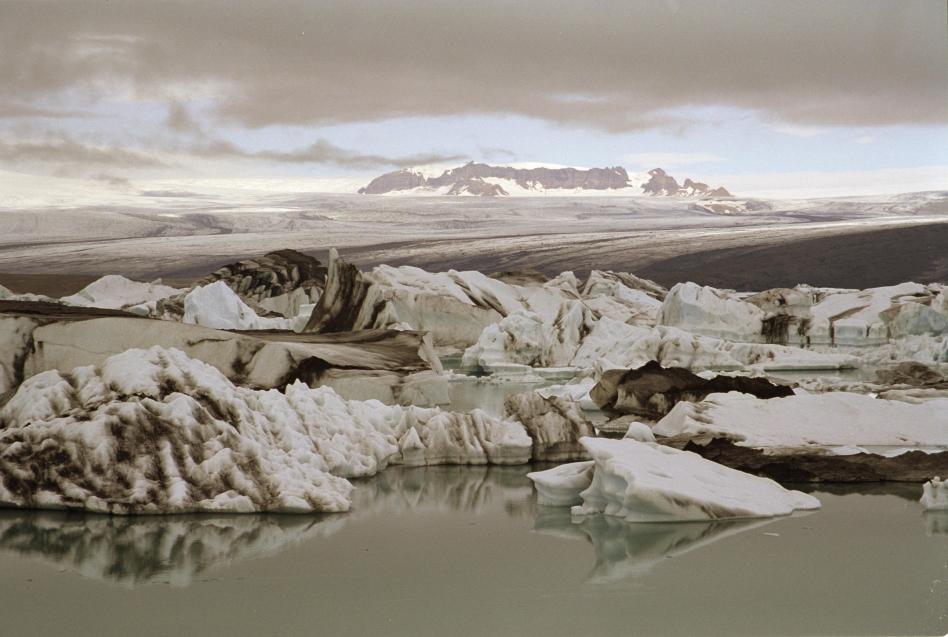 At Skaftafell I teamed up with Aase from Norway to climb Kristínartindar, an 1129m-high peak with views over the glaciers and up towards the icecap. At least, it would have done if the cloud hadn't descended! We didn't even bother going to the top once we knew there was no view. After a rather damp night, especailly for Aase whose tent was not entirely up to the job, we got on the next bus West.
Landmannalaugar
As well as Vatnajökull, Iceland has a number of other smaller icecaps. Landmannalaugar is an area between them; it's high up at over 500m and sparsely vegetated, with glacial rivers and lava between the bare hills. It's often described as colourful; I'm not sure I'd go quite that far, but certainly the bright green moss, grey lava and yellow to red sand and rock make for interesting views. But Landmannalaugar is best known for its hot springs. Where a thousand-year-old lava flow has blocked a valley the river sinks on one side and emerges at the other in a mixture of hot and cold springs; these mix toghether to provide an ideal bathing spot.
For all those people who've hiked to Landmannalaugar from the coast (a popular five-day walk with huts on the route) a soak in the springs is a great way to recover. For idlers like me who arrived on the bus it is an extravogant luxury! The only problem is that on the first evening it was blowing a gale and getting out of the water was a bit chilly!
Aase and I spent one night in the hut there, and a second in a borrowed tent (with space to stand up! What Luxury!), and did a short hike to the top of one of the neighbouring peaks. Then for me it was back to Rejkjavík.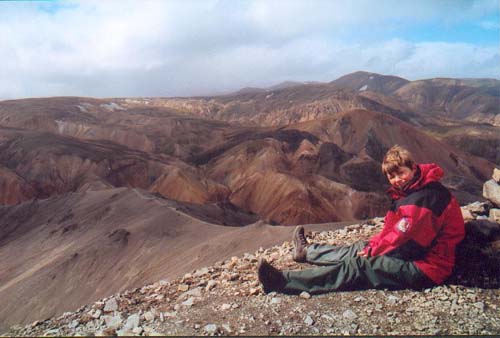 Gullfoss and Geysir
No trip to Iceland is complete without a trip to see the "Golden Circle" attractions: Þingvellir, where Iceland's parliament was held, waterfall Gullfoss, and the original geysir that gives its name to all others. Eileen kindly obliged with a whistle-stop tour to see these on my last day. Geysir was particularly fun; Strokker, which errupts every five minutes or so, was on particularly good form. I think I got it just as it started to errupt in this picture.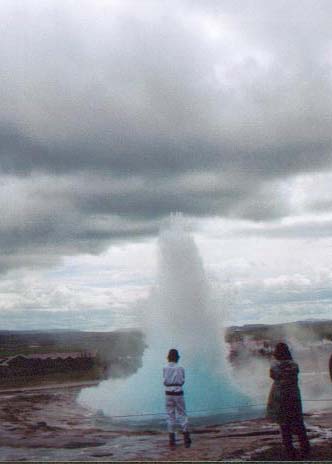 So, just over two weeks in Iceland and it was barely enough time to start to see all that it has to offer. I hope I'll be able to go back some time. I fancy climbing mount Herðabreiðafjöll - anyone interested?