6 August 2002: Montreal, Canada
Subject:
Canada
Quebec
Here are a few quick words about what I've been up to during my first week here in Canada.
I flew in to Montreal and spent the next couple of days travelling north eastwards down the St Lawrence, stopping first at Quebec City. It's located on a rocky outcrop looking over the river and its strategic position gave it an important rule during the English/French conflicts; it claims to be North America's only walled city. It's also the lowest point where the St Lawrence is bridged. It was a very pleasant place to spend a day.
Mont Jacques Cartier
Then I carried on to Ste-Anne-des-Monts, on the South East side of the St Lawrence where it's about 50 miles wide. There's not much to see in the town, but the hostel provides free transport twice a week up to the Parc de la Gaspesie. This is home to what I think is Quebec's highest mountain - I can't find anything higher on the map, but there could be something up in the arctic. It's Mont Jacques Cartier and it's 1270m high. (There are lots of Jacques Cartier things in Quebec - he was the first European to expore here.) The range is called the "Monts Chic-Choc" and it's the northern end of the Appalacian range. Most of the area is heavily wooded, with just the summits sticking out above the tree line.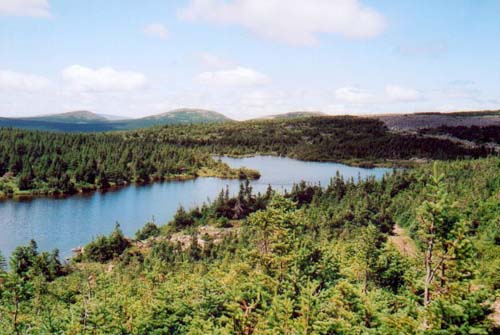 A national park warden on the summit gave an interesting talk about the geology, fauna and flora etc. I'm not finding Quebecoise particularly easy to understand. It really sounded as if this guy was telling us that the trees were short because there was "trop de vin" - he was saying "vent", but that's not what it sounded like to me!
It was warm and sunny on Mont Jacques Cartier, and the next day I climbed its neighbour, Mont Albert. As I was leaving it started to rain, but I still got a lift down to the bus station with a couple of French geologists (thanks!).
Then it was on to Ottawa, Canada's capital, where I saw all the landmarks and went to the Museum of Civilization, which is excellent. It features a huge gallery full of totem poles and native houses, and a gallery tracing Canada's history with recreations of buildings. Then the current special exhibition was about the Vikings - very topical since I've just arrived from Iceland!
Now I'm in Montreal, staying with my friend Alan, and have spent today doing a bike tour of the city. WARNING: bikes here have the brakes the opposite way around to British ones!
Mountain Biking at Night
Alan took me on an evening mountain bike trip with a group of his friends on a nearby wooded hillside. The first uphill bits were somewhat knackering but once I'd got over that it was very enjoyable. Here is a picture that Alan took with a digital camera: