3 September 2002: Vancouver, Canada
Subject:
Canada
This may be a short entry. I am sat in an Internet Cafe in Vancouver surrounded by teenagers and students who are trying to kill each other. That's virtually kill each other, of course, but it's pretty distracting. I should have brought ear-plugs to mask the machine-gun fire and turret's syndrome outbursts of the guy sat next to me. And the computer is running a Chinese version of windows, which doesn't help. Anyway I'll stop whinging now and tell you what I've been doing for the last few weeks:
Yoho National Park
So I eventually made it over the border from Alberta into British Columbia, and into the Yoho national park. I camped in a site at the end of a minor road with a great view of Takakkaw Falls - a spectacular 250m-high waterfall with a "kick" at the top that sends the water out horizontally for a bit. So I stayed there for three nights and did a couple of good days hiking.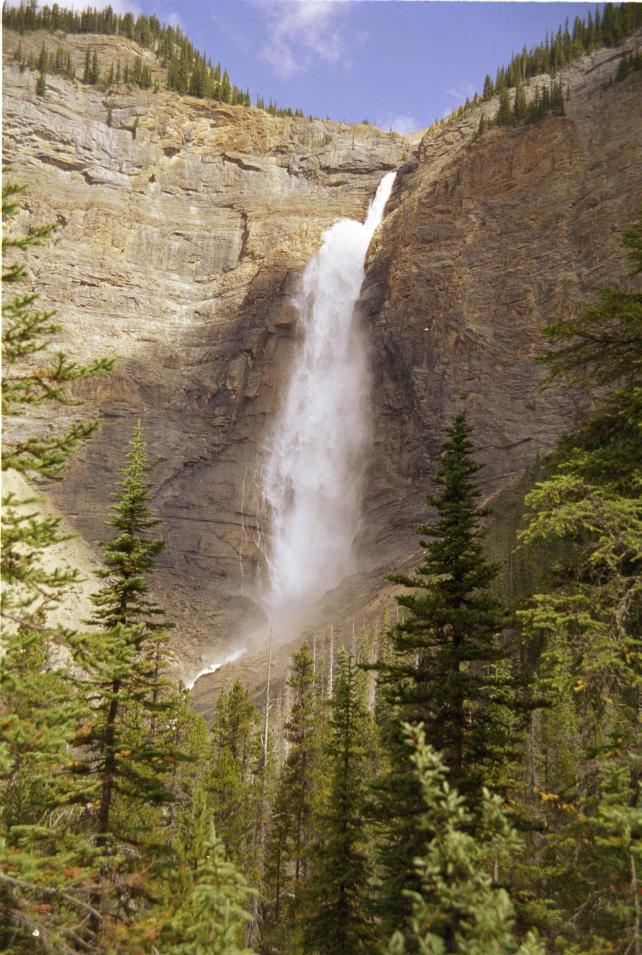 First I climbed Whaleback Mountain. A few miles away is the Burgess Shale, a famous fossil site; the fossil-hunters love that the rock splits apart slate-like, but it means that the mountains can be like giant slate-mine spoil tips! Anyway I found a path up Whaleback Mountain and got a good panoramic view from the top. To the North, glaciers came down from the same ice-cap that I'd been to the East of at Mosquito Creek, but on this side, because they were south-facing, they were "dry" rather than snow-covered. To the South the view was dominated by The President and The Vice President, two big mountains with snow-covered, North-facing, glaciers hanging down from them. And below on all sides the slopes dropped down into the trees that fill all the valleys.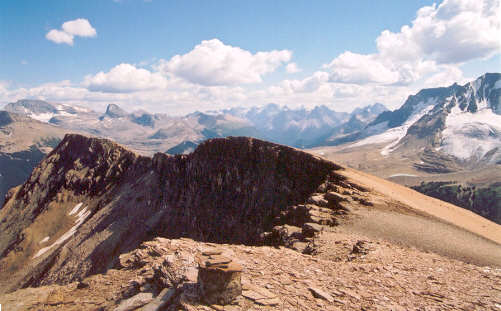 On my way down I took a detour (i.e. I slithered down the horrible scree, rather than taking the path) in order to see Twin Falls - another famous tall waterfall with, as the name suggests, a pair of parallel falls.
Then on my second day I did a shorter walk, hiking up to Little Yoho Lake and on to see the view of Emerald Lake, a well-known local beauty spot. On the way back it's possible to see the glacier that feeds Takakkaw falls.
Seattle and Victoria
So finally it was time to get on the Greyhound bus and leave the rockies behind, and here I am in Vancouver about to fly to Mexico for country number three. But first I took a detour to Seattle to visit my friend Becky, who has been living there for the last few years. The train from Vancouver down to Seattle follows the coast, right along the beach in places, and has excellent views, especially as the sun was setting. Then looking inland I got a few brief views of a mountain that was obviously a volcano - probably Mount Baker, I am told.
Becky and her husband have just moved into a new place and it's very pleasant. (I do get jealous of all these youngsters who've got further up the home-comforts ladder than me!) Anyway, we went out for a hike in the Cascades with another English friend of hers; it wasn't a long walk, and like most places around here unless you walk for hours and hours you don't even get to the tree line and see no real views! But it was pleasant nonetheless, and the lake at the end of the walk could even have been warm enough to swim in, except that it was raining!
For variety I took a different route back, going by boat via Victoria on Vancouver Island. It was a bit misty going up Puget Sound so I couldn't see the big mountains in the distance, but the coastline is pleasant. And for the second leg from Victoria back to Vancouver the route was really very scenic as the ferry navigates through some really very narrow straits between islands. (And the sun was coming out by then!).
Victoria itself was an odd place; all the Canadians say it's "very English". One guy told me that I would find it like Blackpool or Bath - and since these two English towns are about as different as they can get, it's clear they don't have any idea what "very English" means! It does have a nice Maritime Museum though.
So now it's nearly time to move on - Canada has been fun and I can certainly recommend the Rockies to anyone who wants something different from the Alps for their next holiday. Now it's time to start exercising my Spanish.