Canada
6 August 2002: Montreal, Canada
Quebec
Here are a few quick words about what I've been up to during my first week here in Canada.
I flew in to Montreal and spent the next couple of days travelling north eastwards down the St Lawrence, stopping first at Quebec City. It's located on a rocky outcrop looking over the river and its strategic position gave it an important rule during the English/French conflicts; it claims to be North America's only walled city. It's also the lowest point where the St Lawrence is bridged. It was a very pleasant place to spend a day.
Mont Jacques Cartier
Then I carried on to Ste-Anne-des-Monts, on the South East side of the St Lawrence where it's about 50 miles wide. There's not much to see in the town, but the hostel provides free transport twice a week up to the Parc de la Gaspesie. This is home to what I think is Quebec's highest mountain - I can't find anything higher on the map, but there could be something up in the arctic. It's Mont Jacques Cartier and it's 1270m high. (There are lots of Jacques Cartier things in Quebec - he was the first European to expore here.) The range is called the "Monts Chic-Choc" and it's the northern end of the Appalacian range. Most of the area is heavily wooded, with just the summits sticking out above the tree line.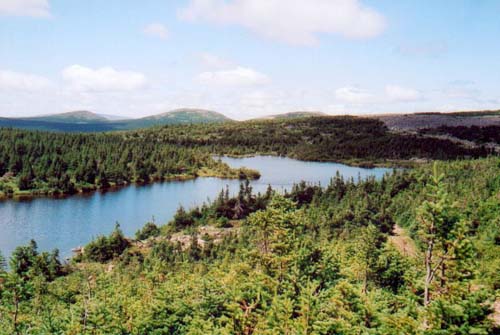 A national park warden on the summit gave an interesting talk about the geology, fauna and flora etc. I'm not finding Quebecoise particularly easy to understand. It really sounded as if this guy was telling us that the trees were short because there was "trop de vin" - he was saying "vent", but that's not what it sounded like to me!
It was warm and sunny on Mont Jacques Cartier, and the next day I climbed its neighbour, Mont Albert. As I was leaving it started to rain, but I still got a lift down to the bus station with a couple of French geologists (thanks!).
Then it was on to Ottawa, Canada's capital, where I saw all the landmarks and went to the Museum of Civilization, which is excellent. It features a huge gallery full of totem poles and native houses, and a gallery tracing Canada's history with recreations of buildings. Then the current special exhibition was about the Vikings - very topical since I've just arrived from Iceland!
Now I'm in Montreal, staying with my friend Alan, and have spent today doing a bike tour of the city. WARNING: bikes here have the brakes the opposite way around to British ones!
Mountain Biking at Night
Alan took me on an evening mountain bike trip with a group of his friends on a nearby wooded hillside. The first uphill bits were somewhat knackering but once I'd got over that it was very enjoyable. Here is a picture that Alan took with a digital camera: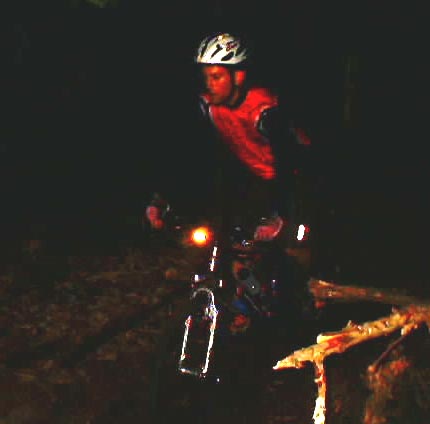 19 August 2002: Banff, Canada
Niagara Falls
After a few days with Alan (and his cats, and his other temporary flatmate - it was quite a housefull), I went to Toronto and stayed with Craig (ex. AMULET) and his wife and five-month-old son (and cat - though not quite as hairy as Alan's). Son Luke obviously keeps Craig and Sandra fully occupied, but Craig and I did find time to catch up over a couple of beers in his neighbourhood Irish pub. Then I took myslef to Niagara Falls for the day.
I had been preparing myself for a tourist hotspot and Craig wwarned me that it is Canada's answer to Blackpool, but I was pleasantly surprised. I think that the sheer scale of the falls - ten times the water-volume of Iceland's Dettifoss falling about the same distance - dwarfs any human constructions on the banks. It was a sunny day and there were rainbows everywhere. Very picturesque.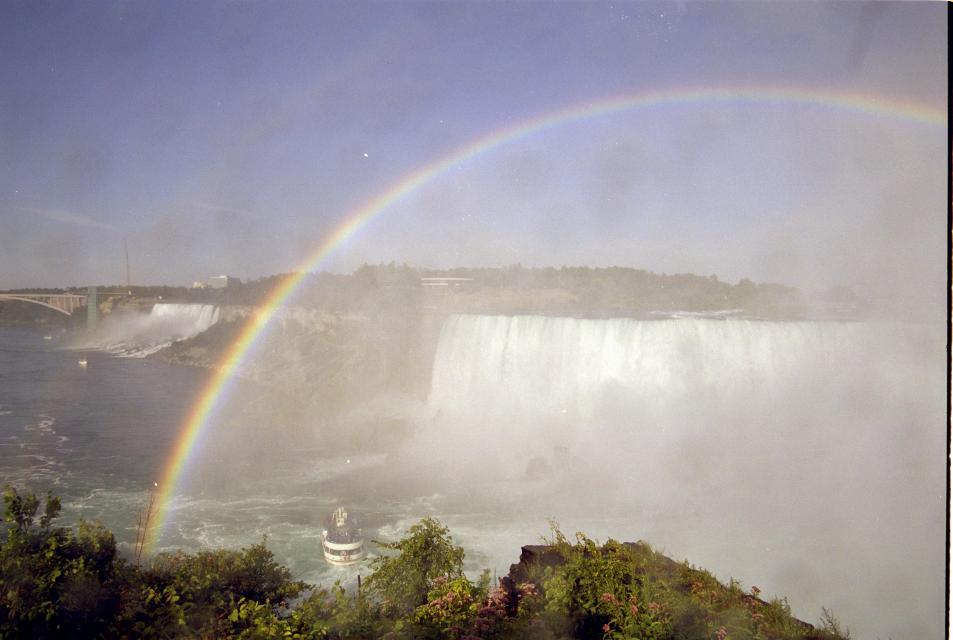 Next I took a train to Chicago. Don't ask why. So I got to spend thirteen hours on a train. I will write more about this once I have no need to pass through a U.S. frontier EVER AGAIN. On the U.S. side of the border the train was full of crazies who will "never get on a plane again". Aarggh. Then Chicago and a night in a "Quality Inn" that seemed to be an integral part of an eight-lane motorway junction. Anyway thankfully I am now back in lovely Canada.
The Rockies - Banff
I've now been in Banff for nearly a week and have done embarassingly little! Getting out of my tent early enough in the morning to climb a mountain is the problem. Anyway, I did manage this one-and-a-half times. I got to the top of Mount Rundle, a 2948m peak that overlooks the town. (Banff is at about 1400m, so that's about 1550m of ascent.) It was a fairly gentle, but long, plod through trees, followed by some loose scree to the ridge, then an easy scramble along to the actual summit. Other people had been turning back due to cloud, but I pressed on and from the top had views over the cloud to other peaks in the distance. Mount Assiniboine (?) is a spectacular (and hard) Matterhorn-like peak that dominates the view.

The following morning, snow had fallen: here's the view of Mt Rundle from the campsite.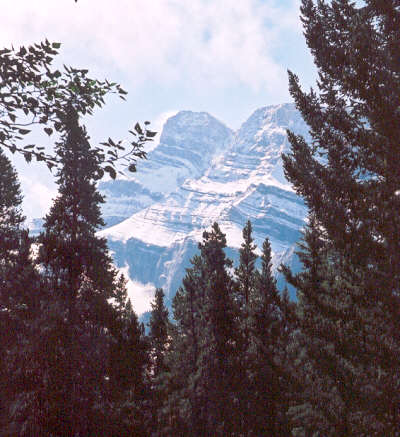 The "half" was Mount Bourgeau. I set off late and walked up to some lovely corrie lakes and then up to a pass at about 2500m from where there was a view, but mostly of approaching rainclouds, so I called it a day.
In an effort to climb some more of these lovely peaks (and they really are very beautifull) I'm going to Mosquito Creek hostel next, where I hope staying in bed too long will be harder! I fancy Observation Peak, which has views out over one of the icefields and has a nice high-altitude start.
Of course there are other things to do in Banff. I've walked most of the valley trails, and this afternoon went to the hot springs. It's not quite the same as Iceland but is a pleasant way to relax, and it has a great view of Mt Rundle.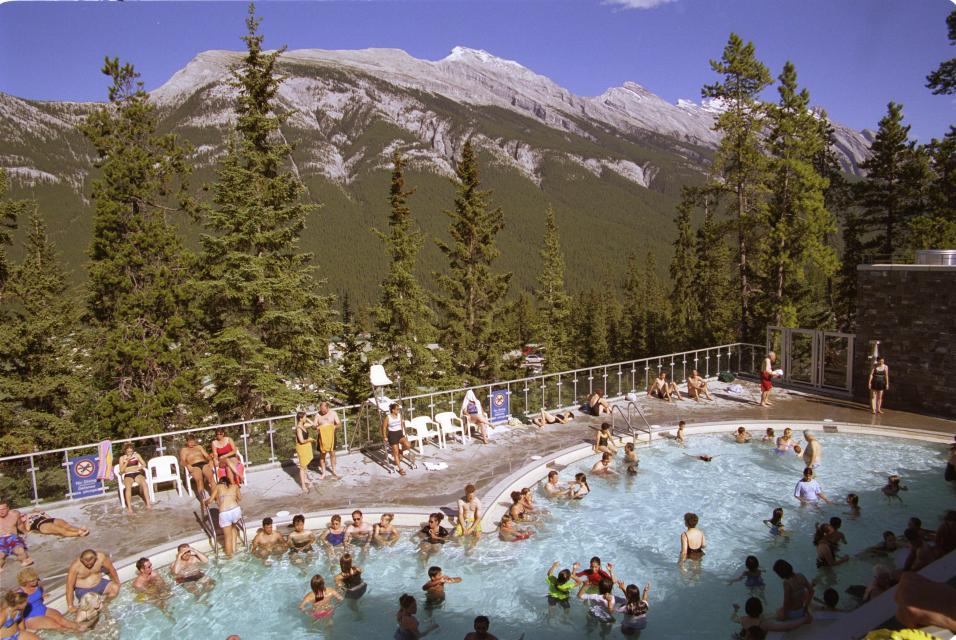 Afterwards I had afternoon tea at the very exclusive Banff Springs Hotel with some people I'd met on the mountain and bumped into again at the springs. The hotel reminded me of Neuschwanstein Castle - enormous and faux-medieval!
So I'll be here for a while longer, so expect some more updates with news of more peaks that I've climbed.
25 August 2002: Banff, Canada
I'm back in Banff. I wasn't really planning to be back here, but the campsite in Lake Louise is closed (bears on the prowel!) and the hostel is full, so I'm here for a night before moving on. But is does give me a chance to keep all you eager friends and relatives up to date with my news.
Mosquito Creek
Mosquito Creek hostel must be one of the world's few remaining "primitive" hostels, with no mains water, electricity or drainage. They have UV-treated stream water, pumped by a solar pump, gas lights and fridges, and a wood-burning sauna! It's very rustic and pleasant, and full of all sorts of interesting people. (Plus, as usual, a few uninteresting people who go to bed late and make lots of noise.)
I was there for three nights and two days, and as predicited I did get up early enough to do some proper walks. On the first day I climbed Observation Peak, a thousand metres of mostly hard-work clambering up scree. But it is certainly worth it, and I made plenty of stops during the ascent to look behind at the unfolding view. The starting point is the pass between the Bow river (which flows South through Banff and Calgary) and something else that flows North into the Sascatchewan and through Edmonton. These rivers both flow from glaciers on the mountains opposite, and flow first into lakes that are a bright turquoise colour because of the galcial material that they are carrying. From Observation Peak these lakes, Bow Lake and Peyto Lake, are almost mirror-images of each other to the left and right. Behind them more and more snow-capped peaks became visible, and eventually as I reached the top I could see not only the range opposite but higher peaks in the range beyond. Most distinctive was the easily-recognised Mount White-eaves. This picture is Bow Lake from about half-way up.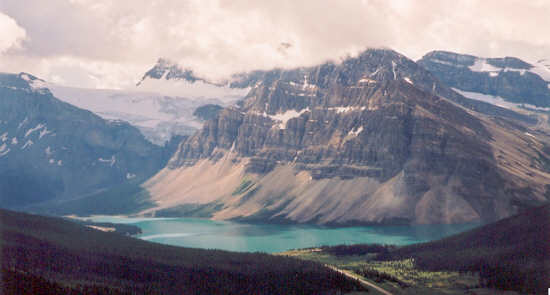 Then on the second day I took an easier option and just walked up Mosquito Creek itself. This leads through the woods and eventually up to an alpine meadow and lake before crossing a pass into another valley. But to make the walk more memorable I was accompanied by Petzl, the hostel manager's dog, who set a very good pace and knew exactly where he was going.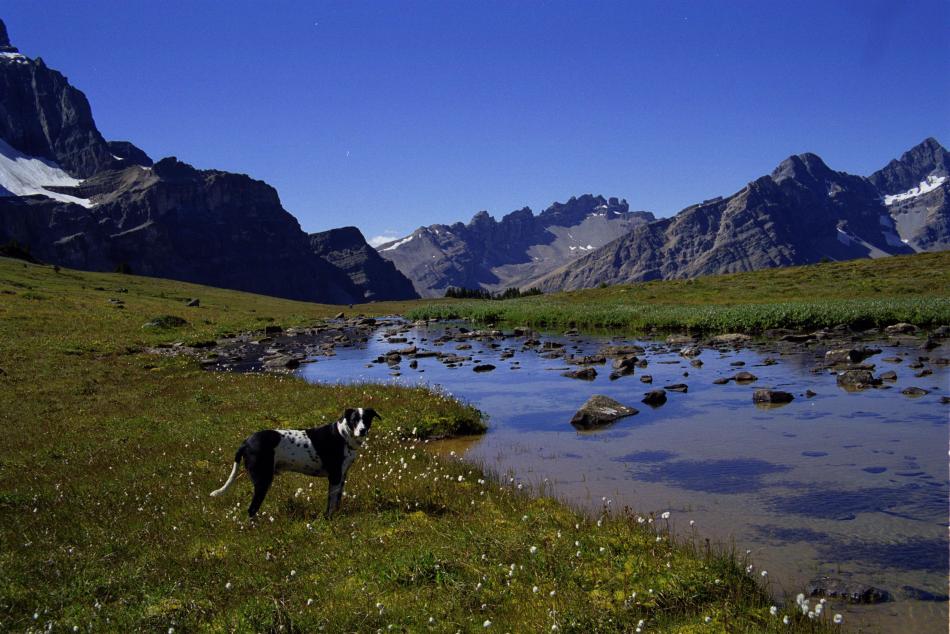 So although these mountains were impressive I knew that higher and snowier ones could be found further North, and I set off for the Columbia Icefield. I got a lift with another English guy from the hostel, and on the way we stopped off at most of the touristy viewpoints. Here's another view of Bow Lake: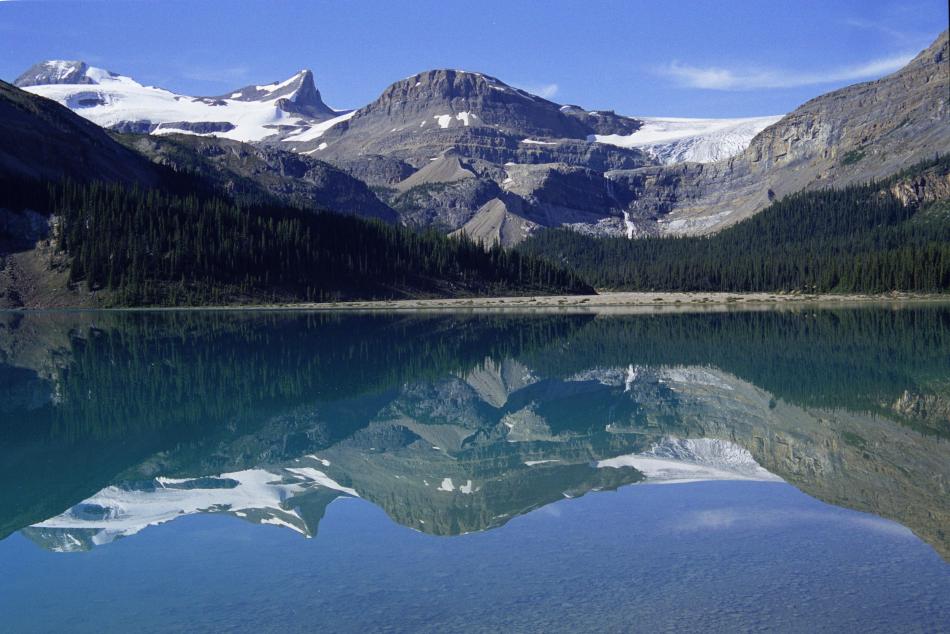 Columbia Icefield
It was back to my tent here as apparently the hostel burnt down! The Columbia Icefield is a huge sea of ice from which several glaciers flow in different directions. One of them, the Athabasca glacier, is right next to the road and has been made accessible to "bus tour" tourists and others by "sno-coach" tour. It's a bit of an eye-sore but at least it is only one of them. The high point of the icefield, the Snow Dome, is significant because from here ice flows three ways: North to the Arctic Ocean via the McKenzie river, West to the Pacific, and East to the Atlantic via the Sascachewan river and Hudson Bay. For a properly-equiped group of more than one, getting up onto the icefield would not be difficult, and the campsite was full of people getting up before dawn to make glacial ascents. But you do need someone to hold on to the end of the rope when you fall down a crevace, so I satisfied myself with an ice-free ascent.
The peak I chose is not named on the map, but one of my guidebooks calls it Boundary Peak because it lies on the boundary between Banff and Jasper national parks. Like Observation Peak it is mostly toil up scree and actually climbing up the glaciers would be far more pleasant. But the ascent was well worth it for the excellent views. Right next door is Mount Athabasca, a huge snow-capped peak with glaciers coming from all sides, and next to it is the Snow Dome and Mount Kitchener. Then, in the distance and visible in gaps between the others, are Mount Columbia, a 3700m monster, and Mount Sascachewan, a peak with such an interesting shape that it gets its picture on the banknotes (or so I am told). This picture is me in front of Mt Athabasca.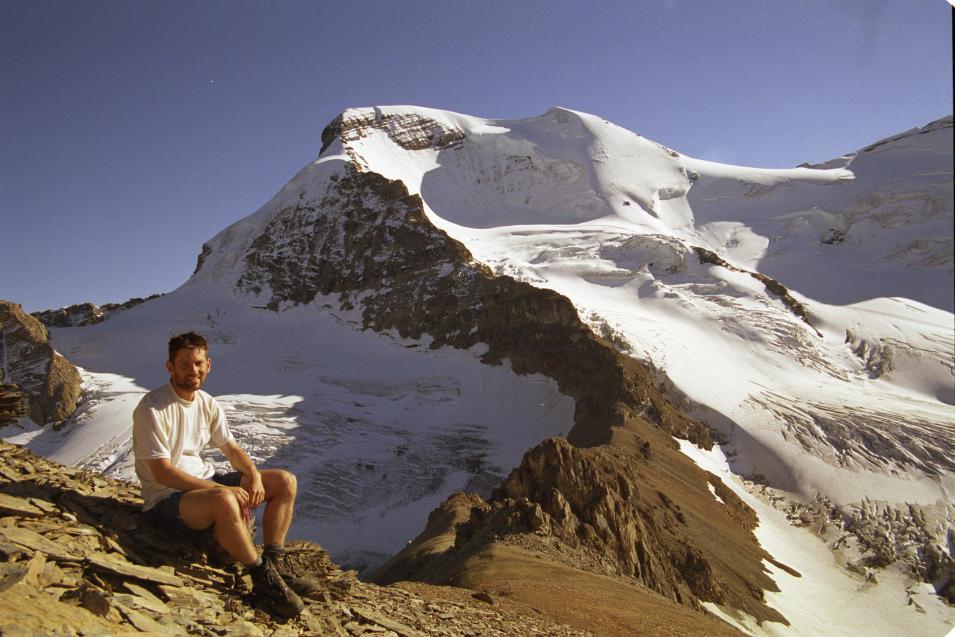 And here is the Snow Dome: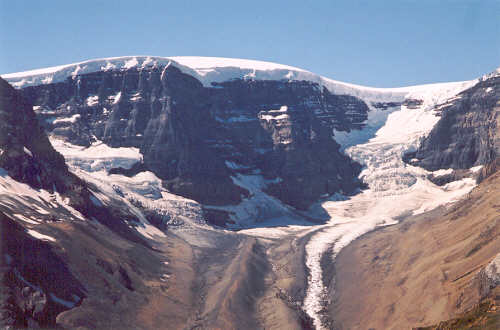 My second day could not rival that, with just a bimble up to the hill behind the campsite for one last look at the view. Now I'm back in Banff for a night, and will be crossing into British Columbia to visit Yoho National Park tomorrow.
3 September 2002: Vancouver, Canada
This may be a short entry. I am sat in an Internet Cafe in Vancouver surrounded by teenagers and students who are trying to kill each other. That's virtually kill each other, of course, but it's pretty distracting. I should have brought ear-plugs to mask the machine-gun fire and turret's syndrome outbursts of the guy sat next to me. And the computer is running a Chinese version of windows, which doesn't help. Anyway I'll stop whinging now and tell you what I've been doing for the last few weeks:
Yoho National Park
So I eventually made it over the border from Alberta into British Columbia, and into the Yoho national park. I camped in a site at the end of a minor road with a great view of Takakkaw Falls - a spectacular 250m-high waterfall with a "kick" at the top that sends the water out horizontally for a bit. So I stayed there for three nights and did a couple of good days hiking.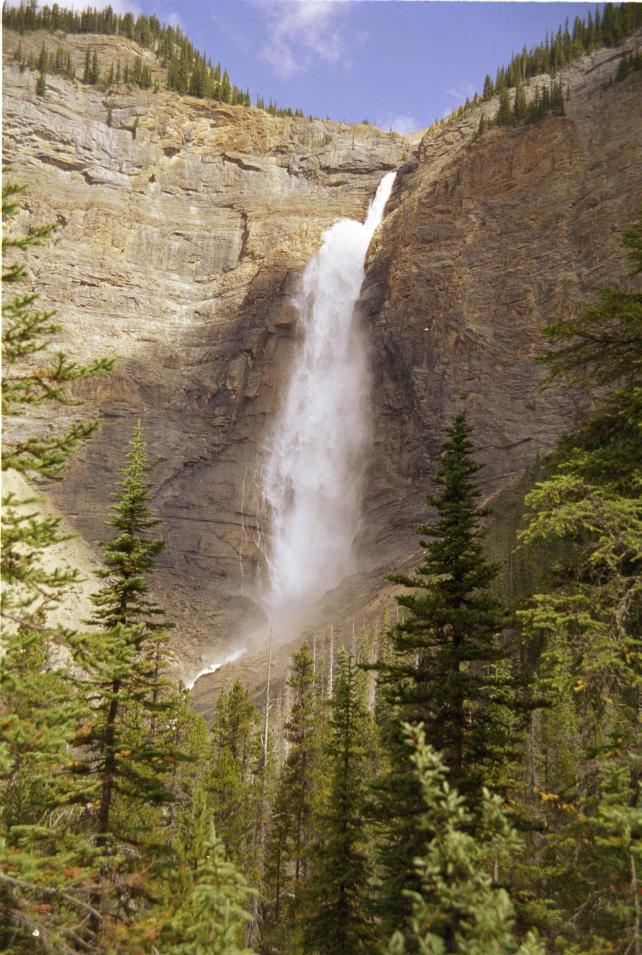 First I climbed Whaleback Mountain. A few miles away is the Burgess Shale, a famous fossil site; the fossil-hunters love that the rock splits apart slate-like, but it means that the mountains can be like giant slate-mine spoil tips! Anyway I found a path up Whaleback Mountain and got a good panoramic view from the top. To the North, glaciers came down from the same ice-cap that I'd been to the East of at Mosquito Creek, but on this side, because they were south-facing, they were "dry" rather than snow-covered. To the South the view was dominated by The President and The Vice President, two big mountains with snow-covered, North-facing, glaciers hanging down from them. And below on all sides the slopes dropped down into the trees that fill all the valleys.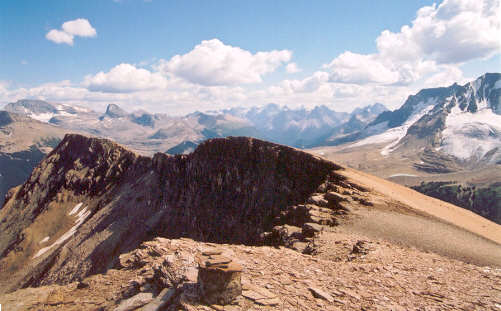 On my way down I took a detour (i.e. I slithered down the horrible scree, rather than taking the path) in order to see Twin Falls - another famous tall waterfall with, as the name suggests, a pair of parallel falls.
Then on my second day I did a shorter walk, hiking up to Little Yoho Lake and on to see the view of Emerald Lake, a well-known local beauty spot. On the way back it's possible to see the glacier that feeds Takakkaw falls.
Seattle and Victoria
So finally it was time to get on the Greyhound bus and leave the rockies behind, and here I am in Vancouver about to fly to Mexico for country number three. But first I took a detour to Seattle to visit my friend Becky, who has been living there for the last few years. The train from Vancouver down to Seattle follows the coast, right along the beach in places, and has excellent views, especially as the sun was setting. Then looking inland I got a few brief views of a mountain that was obviously a volcano - probably Mount Baker, I am told.
Becky and her husband have just moved into a new place and it's very pleasant. (I do get jealous of all these youngsters who've got further up the home-comforts ladder than me!) Anyway, we went out for a hike in the Cascades with another English friend of hers; it wasn't a long walk, and like most places around here unless you walk for hours and hours you don't even get to the tree line and see no real views! But it was pleasant nonetheless, and the lake at the end of the walk could even have been warm enough to swim in, except that it was raining!
For variety I took a different route back, going by boat via Victoria on Vancouver Island. It was a bit misty going up Puget Sound so I couldn't see the big mountains in the distance, but the coastline is pleasant. And for the second leg from Victoria back to Vancouver the route was really very scenic as the ferry navigates through some really very narrow straits between islands. (And the sun was coming out by then!).
Victoria itself was an odd place; all the Canadians say it's "very English". One guy told me that I would find it like Blackpool or Bath - and since these two English towns are about as different as they can get, it's clear they don't have any idea what "very English" means! It does have a nice Maritime Museum though.
So now it's nearly time to move on - Canada has been fun and I can certainly recommend the Rockies to anyone who wants something different from the Alps for their next holiday. Now it's time to start exercising my Spanish.
4 September 2002: Dallas Fort Worth Airport
Cambridge, Vermont
I forgot to mention this before; when I was staying in Montreal with Alan, we took a day trip over the border to Vermont and had a look at Lake Champlain, Burlington, and the Smugglers' Gap pass. On the way back, by chance we passed through Cambridge - a little place, perhaps "small town America" typified. I hope you can read the words on this picutre: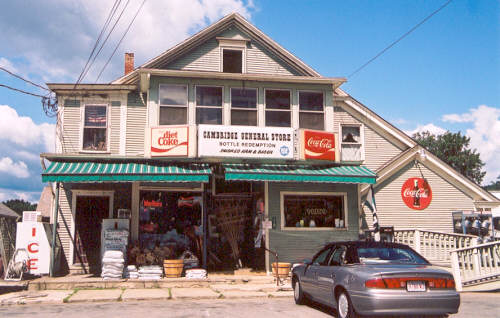 I'm just passing through Dallas airport on my way to Mexico, and I've found an airport internet terminal that's actually useable! It has a proper keyboard, and (for the tech-savvy) it does HTTP AUTH, which most don't. Guess what - it's made by AT&T!
15 October 2002: San José, Costa Rica
Photos!
Dad has kindly scanned in some of the Canadian photos that I posted home.
This one is Takkakaw Falls, in Yoho national park.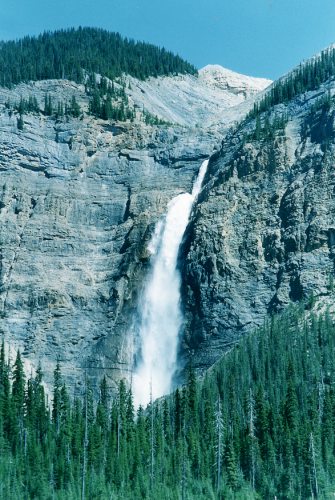 This is a view of (I think) the Yoho Glacier - certainly it is one of the glaciers at the top of the Yoho valley - taken from Whaleback Mountain. I think it is the stream that flows down to Twin Falls.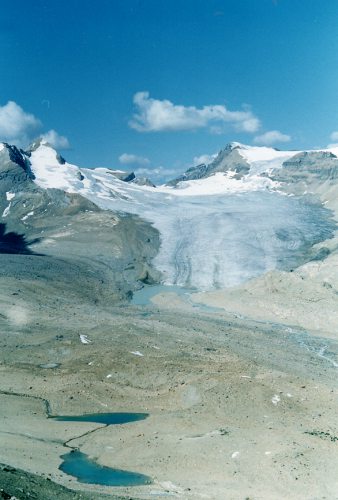 And this is a view from Yoho's Iceline Trail, looking up the Yoho Valley from just above the treeline.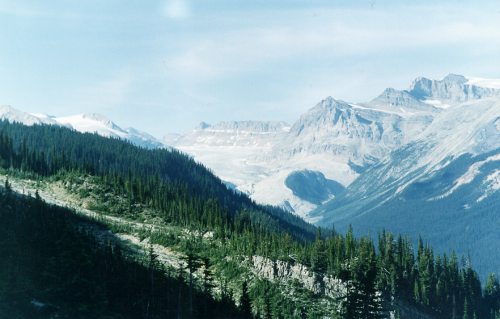 © 2002 - 2003