Maps and Books
We had a variety of maps. There is a series of French 1:50,000 IGN maps overprinted with hiking routes by "Rando Éditions" that covers the Pyrenees in 11 sheets; we used sheets 3 and 4. These have reasonable cartogrpahy and go a short distance into Spain, though with decreased detail. Like quite a few French maps they have no grid lines, which makes compass bearings, let alone GPS readings, rather difficult.
There are also 1:25,000 IGN sheets, which are similar with increased detail. These ones do have grid lines - in fact they have two sets, one GPS compatible UTM grid in blue and a "legacy" grid in black. We had sheet 1748OT, "Gavarnie / Luz-St-Sauveur".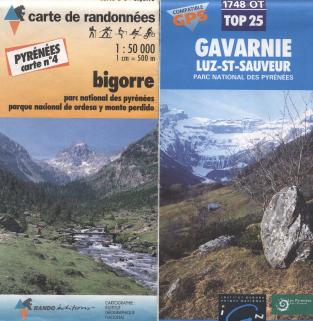 On the Spanish side we used a 1:25,000 map entitled "Ordesa Y Monte Perdido" and "Parques Nationales 7". It claims to be published ("editan") by the Ministerio de Fomento / Ministerio de Medio Ambiente (approx. Ministry of the Environment), though the national park officials denied this. The base map cartography is good, though the overprinted hiking information is rather unpleasant. There are two major deficiencies however: first, we found that some of the paths don't exist any more on the ground. Second, although the grid looks like a GPS-compatible UTM grid, it isn't. UTM divides the world into zones, and a zone boundary crosses this map. But rather than show this correctly, the grid for the larger right-hand zone has simply been extrapolated into the left-hand zone. This makes a big chunk of the map useless for GPS.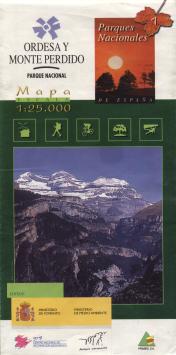 We took one guidebook with us, the Cicerone Guide "Walks & Climbs in The Pyrenees" by Kev Reynolds (ISBN 1-85284-133-8). This is a useful book that is sufficient to give a good feeling for the area. I also have a book "Long Distance Walks in the Pyrenees" by Chris Townsend (ISBN 1-85223-391-5), which includes some nice photos and the sort of overview that can help when deciding where to go.
Travel
We took the train - Eurostar from London to Paris, then the sleeper to Lourdes. This gave us an afternoon to enjoy in Paris and got us closer to the mountains than any plane would, and got us there early enough to get the SNCF bus to Cauterets. The train is also, of course, much more environmentally friendly than flying.
Although there is a good bus service to Cauterets for the start of the walk, getting back from Gavarnie was more difficult! It seems that there is a bus during the summer and also during school term, but we hit the couple of weeks between the tourists leaving and the schools starting! We ended up walking to Luz-St-Sauveur over two days from where there is a good bus service.