30 January 2003: Pucón, Chile
Subject:
Chile (2)
Well my stay in Chile is nearly over. OK, Easter Island is part of Chile too so that's not entirely true, but you know what I mean. My flight from Santiago to Easter Island is on Saturday morning. This evening I'm getting a bus to Santiago and I'll have a day there to sort out my afairs (that means another package of photos and books is about to start its sea-journey to Europe).
The last week has been fairly uneventful. I have spent most of it here in Pucón, a touristy place on the shores of Lake Villarica at the northern end of Chile's Lake District. I'll say something about what I've been doing here but first a few words about my previous stops.
Puerto Natales and Puerto Montt
Puerto Natales is the starting point for everyone going to Torres Del Paine, so you would expect it to be geared up for tourists. But actually it is a land-that-time-forgot sort of place, almost a Chilean Royston Vasey. It is full of Local Shops where nobody has bought anything for decades, and they have the habit of leaving the lights off so it looks as if the shops are closed even when they're open. I stayed in a freezing cold guest house with rock hard and uneven beds and the most meagre breakfast imaginable. It's quite a contrast with the Argentine tourist bases of El Calafate and Ushuaia.
Puerto Natales and Punta Arenas are pretty well cut off from the rest of Chile; there are no roads along the Chilean side of the border so you have to travel via Argentina or take a boat or plane. I was expecting that when I got to Puerto Montt, back in "mainland" Chile, things would be back to normal. But actually Puerto Montt is a bit of a dump too. There is a smart new shopping centre where the railway station was until they closed the line a couple of years ago, but the rest of the town centre is mostly junk shops. Walking along the front towards the port things get a bit more interesting; there are some nice craft places selling mostly carved wooden stuff and woolens. (The hand-knitted jumpers here in Chile are actually more interesting than what's available in Peru and Bolivia.) Then at the end of the road there's the fishermans' harbour and seafood market, full of interesting sights and smells. (I don't actually recommend eating any of it though. I did and it made me ill. Though not really ill by Bolivian standards for example.)
My impression of Puerto Montt was made worse by the way that it was cold and damp there, just as it had been down in Puerto Natales. The flight covers about as much distance as England to the Mediterranean so I was expecting it to be hot and sunny. But it was like and Engish seaside town in October.
So I decided that I'd head further North in search of some warmth, and the furthest North that my Lake District map covers is Pucón.
Pucón
Pucón is described by Lonely Planet as "Chile's adventure travel Mecca", which means that its main street is full of immitation log cabin buildings housing tour operators. The main attraction is Volcan Villarica, a 2800m volcano just outside the town. But until a couple of days ago all I had seen was this: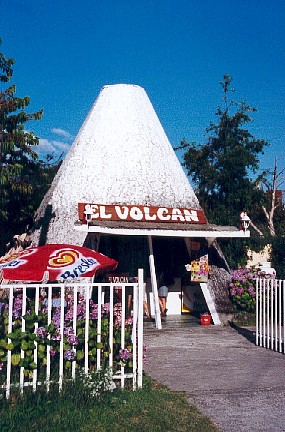 Even when most of the sky was blue, a big patch of cloud lingered on the southern horizon. But then we had a rare clear day and got to see it: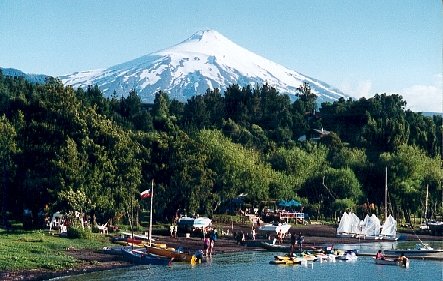 The climb is not particularly difficult, but for some reason the forestry commission officials who control access to the park require that you have a guide with a recognised qualification. So everyone shells out $$$ to one of the aforesaid tour operators to go up with a group.
So with the weather being a lottery, and the requirement to pay for a guide, and with my muscles and knees a bit fragile after all my exertions of the last few weeks, I have confined myself to other activities. I've done two river-rafting trips, which are incredibly cheap here and great fun. (Sorry, no photos. Getting Bolivian desert sand in my camera is one thing, but taking it swimming is another...) Then I took a bus out to the Huerquehue national park.
Huerquehue
Huerquehue is a protected area of forests, lakes and waterfalls about 30 km away with some nice easy hiking routes. Just what I fancied.
My first effort to get there was aborted before it began; there is one bus a day in each direction, and when I got to the bus station five minutes before the morning service was due to depart it was already full and overflowing! So I tried again the next day and got there earlier.
It is administered by the same people as the volcano, and their hands-on approach to managing their visitors applies here too. Whereas on the volcano they don't want people going up without the necessary equipment, here they check to make sure that you're not carrying too much: I was stopped to see if I might be carrying a tent! (You are not allowed to camp inside the park, but people are obviously temped: the official camp site costs twice as much as a hostel here in Pucón.)
The walk starts at about 700 m and climbs up a zig-zag path to about 1200 m, passing various waterfalls and view points. This view would have the volcano in the background if it wasn't for all that cloud: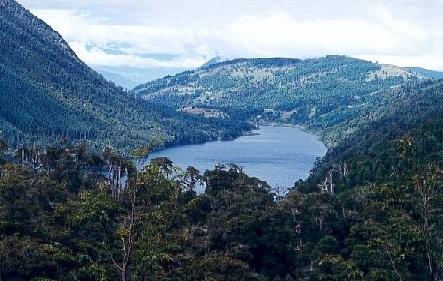 Once you get to the top of the climb the path levels out and passes various picturesque little lakes amongst the forst: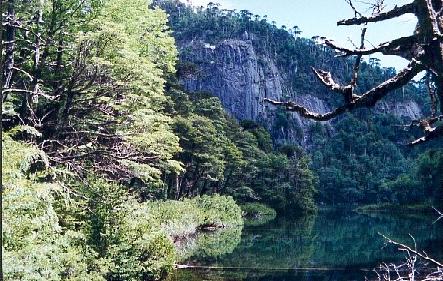 At this altitude the flora is similar to what they have at sea level further south: lots of mountain violets (which are yellow here) and Palomitas, the Dog Orchid. The trees are a bit different though: the main feature is the Araucaria, or Monkey Puzzle, tree. I didn't recognise the first ones that I saw because they are enormous with the distinctive branches way up in the canopy; the trunks are not so different from other trees. But seen from a distance they are easily distinguished.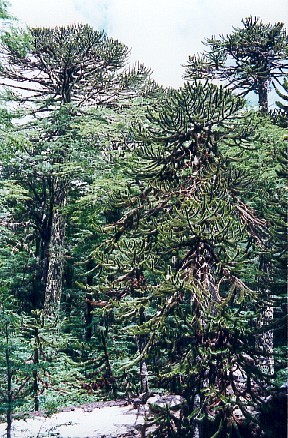 At the highest point of the walk I was treated to a sight of a Magellan Woodpecker. It is big and black with a bright red head - and especially as it was pecking at a tree I have no doubt at all that that is what it was.
Lower down the flora is different with several things that I'd not seen before. Most eye-catching are the Botellita, "Small Bottle", a climber that is seen either high up in a tree or forming a bush at ground level. The flowers are red and, surprise surprise, bottle shaped.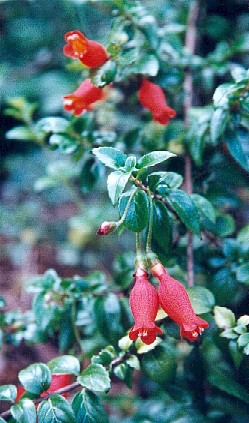 Red seems to be the colour of choice around here. This is Estrella Del Bosque, "Star of the Forset". It creeps over fallen trunks, rocks or the forest floor.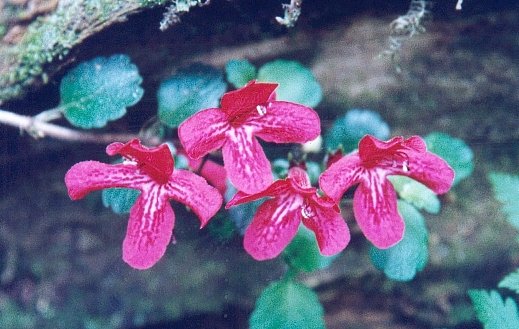 So that's it for now. I'm not sure how well internet-connected they are in Easter Island or Tahiti, so you may all have to wait for a while for my next news. I hear England is buried in snow at the moment. Why not come to the South Pacific for a few days to escape?