Chile (2)
23 January 2003: Puerto Natales, Chile
Greetings from Puerto Natales, Chile. I've just got back from the famous Parque National Torres Del Paine, and would be about to get on the almost-as-famous boat up the coast to Puerto Montt - but it has been cancelled. I don't have much time to write now (I have to get on a bus) but here are a few lines about what I have been doing.
Torres Del Paine
Certainly the best-known mountain area in Chile, Torres Del Paine is a large national park full of glaciers fed from the Campo De Hielo Sur, the green and blue lakes that they feed, and huge sheer-sides mountains (the Torres, towers, from which the park gets its name).
I spent just over a week in the park and did the "circuit", a circular walk all around the main mountain group. It included two days on side trips up dead-end valleys where the most famous landmark peaks are found, the crossing of a very Scottish-feeling 1200m pass, and lots of walking along valleys and through forests. Some of it is forested but other areas were cleared for animals decades ago. One particular valley was full of billions of daisies where the trees should have been. Then there are the usual glaciers calving icebergs into lakes, which are becoming commonplace now, and some pretty fauna and flora. Actually there were fewer interesting plants than in Argentina - I think that it is now a bit late in the season so many things have stopped flowering - but more birds and animals. I even saw the first birds that I was sure were condors!
I have got my photos back and there are some nice ones which I will scan in in due course, though not right now. Check back in a week or so.
Boat Disaster
So it seems that the boat that should be taking me up the picturesque but seasickness-inducing fjord-coastline to Puerto Montt is stuck there havings its hydraulics fixed. Boo hiss. So I will be flying instead. It's a shame but it means I will have another couple of days to explore the Chilean lake district before I go to Santiago and then to Easter Island. (Though whether my muscles are really up to hiking around yet more mountains I'm not sure - I had promised them a trip to the beach next...)
Much agro with Navimag, the boat company, and their Puerto Natales agents Comapa, about a refund. If I had cancelled my ticket with less than a week's notice they would have charged me a cancellation fee of 70% of the cost of the ticket (and that's a lot when the fare is US$250). But when they cancel, they offer me nothing. But worse than that they offer me less than nothing, as the refund that they will make to my credit card will end up worth about 6% less than the US$250 that I paid by the time it reaches my account. This is because of the difference between the "buy" and "sell" exchange rates, and I think it's a scandall. I spent a long time trying to pursuade them to make sure I was not out of pocket, but although the man on the front desk was in agreement their big boss refused to co-operate.
Anyway, must go and pick up my bags and go to the bus station now. More news later.
24 January 2003: Puerto Montt, Chile
Torres Del Paine Photos
As promised I have scanned some photos from Torres Del Paine.
The first part of the trip was a walk up the Valle Ascecio to see the famous Torres. The weather wasn't perfect and I got to see this much of the towers: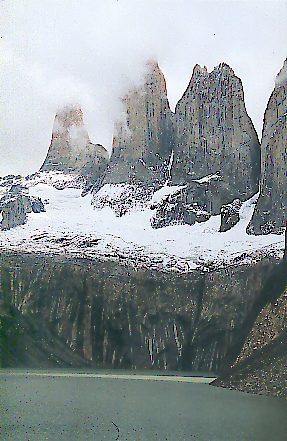 One of the nicest parts of the day was the final bit of the walk up where the path follows a stream that is flowing down over old morraine where the vegetation is getting established. Imagine the nicest cascade in your favourite garden and eextend it to about a kilometer in length! One of the most spectacular plants I've seen, first in Argentina and then at this cascade, is the Waterfall Plant - bright red flowers, and it really does seem to grow practically under the waterfalls!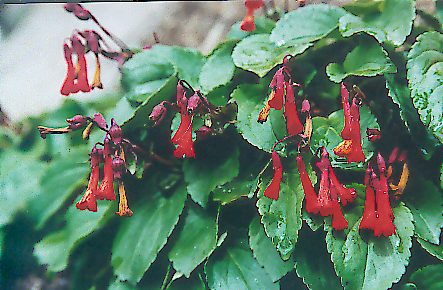 Next I started on the circuit round the back of the mountains, first going up the Rio Paine valley. This was full of dasies.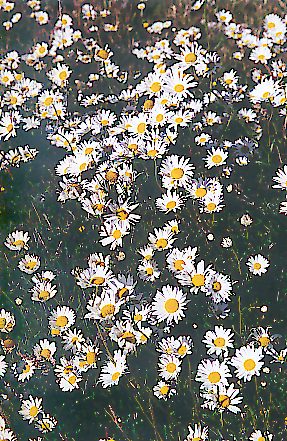 Here is the river itself: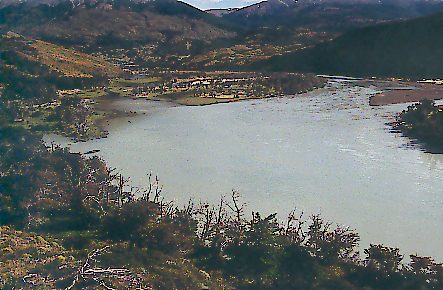 After my rather wet and windy crossing of the John Garner pass, during which I didn't get my camera out once, the route continued down into woodland alongside the Grey Glacier. In a few bright damp spots I found this tiny variant of Topa Topa (I think it must be a different species, but it is not in my book). The plant is at most three or four centimeters tall.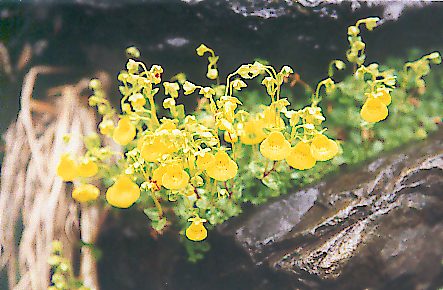 Here are a couple of pictures of the Grey Glacier where it enters Lago Grey.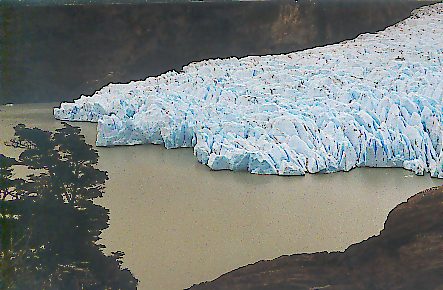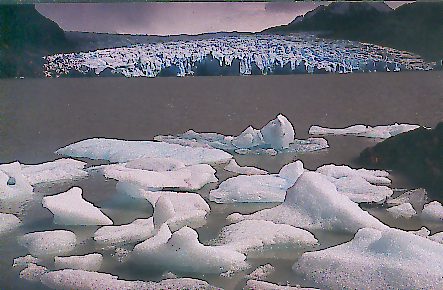 The bits of ice that fall of the glacier get blown around by the wind, and at this time they were all being blown up to the other end of the lake and getting stuck on the beach.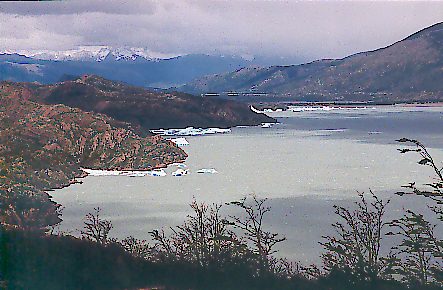 The final leg of the walk, back to my starting point, was past the most famous views of the mountains. Here is a view of the Cuernos Del Paine (I think Cuernos means Horns). There are some more pictures still in my camera...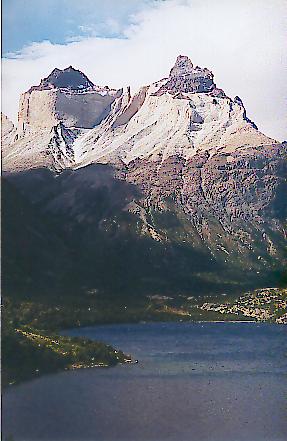 30 January 2003: Pucón, Chile
Well my stay in Chile is nearly over. OK, Easter Island is part of Chile too so that's not entirely true, but you know what I mean. My flight from Santiago to Easter Island is on Saturday morning. This evening I'm getting a bus to Santiago and I'll have a day there to sort out my afairs (that means another package of photos and books is about to start its sea-journey to Europe).
The last week has been fairly uneventful. I have spent most of it here in Pucón, a touristy place on the shores of Lake Villarica at the northern end of Chile's Lake District. I'll say something about what I've been doing here but first a few words about my previous stops.
Puerto Natales and Puerto Montt
Puerto Natales is the starting point for everyone going to Torres Del Paine, so you would expect it to be geared up for tourists. But actually it is a land-that-time-forgot sort of place, almost a Chilean Royston Vasey. It is full of Local Shops where nobody has bought anything for decades, and they have the habit of leaving the lights off so it looks as if the shops are closed even when they're open. I stayed in a freezing cold guest house with rock hard and uneven beds and the most meagre breakfast imaginable. It's quite a contrast with the Argentine tourist bases of El Calafate and Ushuaia.
Puerto Natales and Punta Arenas are pretty well cut off from the rest of Chile; there are no roads along the Chilean side of the border so you have to travel via Argentina or take a boat or plane. I was expecting that when I got to Puerto Montt, back in "mainland" Chile, things would be back to normal. But actually Puerto Montt is a bit of a dump too. There is a smart new shopping centre where the railway station was until they closed the line a couple of years ago, but the rest of the town centre is mostly junk shops. Walking along the front towards the port things get a bit more interesting; there are some nice craft places selling mostly carved wooden stuff and woolens. (The hand-knitted jumpers here in Chile are actually more interesting than what's available in Peru and Bolivia.) Then at the end of the road there's the fishermans' harbour and seafood market, full of interesting sights and smells. (I don't actually recommend eating any of it though. I did and it made me ill. Though not really ill by Bolivian standards for example.)
My impression of Puerto Montt was made worse by the way that it was cold and damp there, just as it had been down in Puerto Natales. The flight covers about as much distance as England to the Mediterranean so I was expecting it to be hot and sunny. But it was like and Engish seaside town in October.
So I decided that I'd head further North in search of some warmth, and the furthest North that my Lake District map covers is Pucón.
Pucón
Pucón is described by Lonely Planet as "Chile's adventure travel Mecca", which means that its main street is full of immitation log cabin buildings housing tour operators. The main attraction is Volcan Villarica, a 2800m volcano just outside the town. But until a couple of days ago all I had seen was this: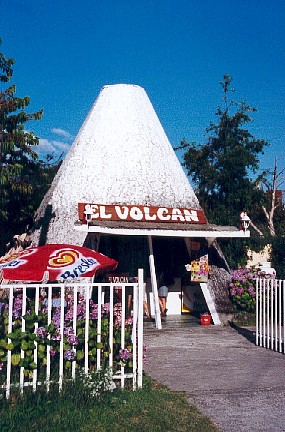 Even when most of the sky was blue, a big patch of cloud lingered on the southern horizon. But then we had a rare clear day and got to see it: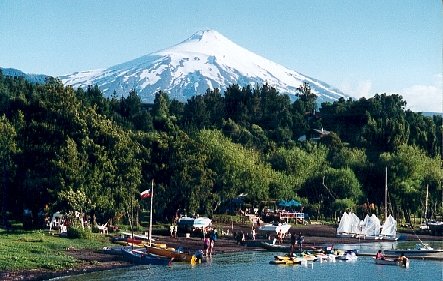 The climb is not particularly difficult, but for some reason the forestry commission officials who control access to the park require that you have a guide with a recognised qualification. So everyone shells out $$$ to one of the aforesaid tour operators to go up with a group.
So with the weather being a lottery, and the requirement to pay for a guide, and with my muscles and knees a bit fragile after all my exertions of the last few weeks, I have confined myself to other activities. I've done two river-rafting trips, which are incredibly cheap here and great fun. (Sorry, no photos. Getting Bolivian desert sand in my camera is one thing, but taking it swimming is another...) Then I took a bus out to the Huerquehue national park.
Huerquehue
Huerquehue is a protected area of forests, lakes and waterfalls about 30 km away with some nice easy hiking routes. Just what I fancied.
My first effort to get there was aborted before it began; there is one bus a day in each direction, and when I got to the bus station five minutes before the morning service was due to depart it was already full and overflowing! So I tried again the next day and got there earlier.
It is administered by the same people as the volcano, and their hands-on approach to managing their visitors applies here too. Whereas on the volcano they don't want people going up without the necessary equipment, here they check to make sure that you're not carrying too much: I was stopped to see if I might be carrying a tent! (You are not allowed to camp inside the park, but people are obviously temped: the official camp site costs twice as much as a hostel here in Pucón.)
The walk starts at about 700 m and climbs up a zig-zag path to about 1200 m, passing various waterfalls and view points. This view would have the volcano in the background if it wasn't for all that cloud: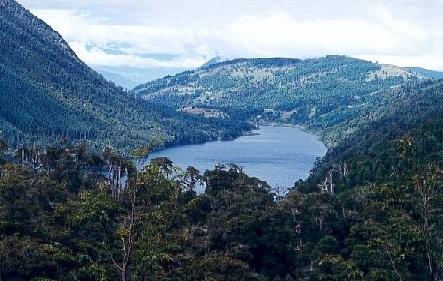 Once you get to the top of the climb the path levels out and passes various picturesque little lakes amongst the forst: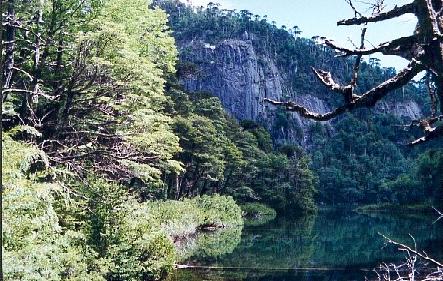 At this altitude the flora is similar to what they have at sea level further south: lots of mountain violets (which are yellow here) and Palomitas, the Dog Orchid. The trees are a bit different though: the main feature is the Araucaria, or Monkey Puzzle, tree. I didn't recognise the first ones that I saw because they are enormous with the distinctive branches way up in the canopy; the trunks are not so different from other trees. But seen from a distance they are easily distinguished.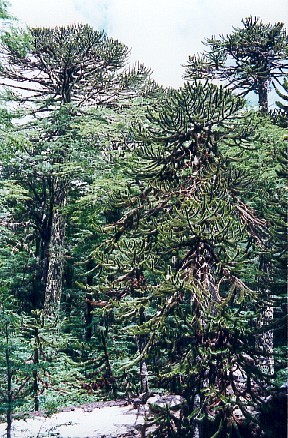 At the highest point of the walk I was treated to a sight of a Magellan Woodpecker. It is big and black with a bright red head - and especially as it was pecking at a tree I have no doubt at all that that is what it was.
Lower down the flora is different with several things that I'd not seen before. Most eye-catching are the Botellita, "Small Bottle", a climber that is seen either high up in a tree or forming a bush at ground level. The flowers are red and, surprise surprise, bottle shaped.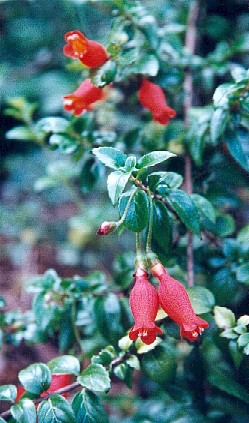 Red seems to be the colour of choice around here. This is Estrella Del Bosque, "Star of the Forset". It creeps over fallen trunks, rocks or the forest floor.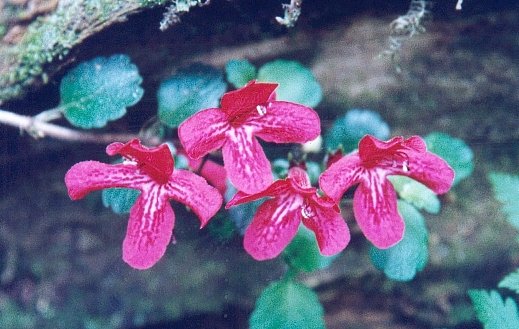 So that's it for now. I'm not sure how well internet-connected they are in Easter Island or Tahiti, so you may all have to wait for a while for my next news. I hear England is buried in snow at the moment. Why not come to the South Pacific for a few days to escape?
7 February 2003: Papeete, Tahiti, French Polynesia
Well I have now arrived in Tahiti, though I won't be staying for long as it seems to be the most expensive place on earth. Also I won't be typing much now as all the keys on this keyboard are in the wrong places!
Easter Island (Rapa Nui)
Well what can I say? You have all seen the TV documentaries about Easter Island and its extraordinary mysterious history. I was there for four days. On the first day I walked up to Rano Kau, the volcanic crater that makes up the bottom third of the island and saw the Orongo ceremonial village where, in the post-moai phase, they had an annual competition to be the first to collect a Sooty Tern egg from an adjacent islet (the "Birdman" cult). Then for the next two days I hired a bike.
First I cycled along the length of the south coast. The roads are practically all paved and the gradients gentle; it was ideal for cycling. This road first leads past one Vinapu, an Ahu (statue platform) whose especially good stonework makes some think that it was influenced by contact with the Incas. Then at the end of the road there's Rano Raraku, the volcano crater quarry where the moai statues were carved, with dozens and dozens of them still half finished stuck in the bedrock and other finished ones abandoned and buried up to their necks half way down the slope. Finally there is Tongariki, the "15 Maois" Ahu where the statues were the only ones still naturally upright until they were flattened by a tidal wave in 1960. A Japanese company put them back up a few years ago and they look really spectacular.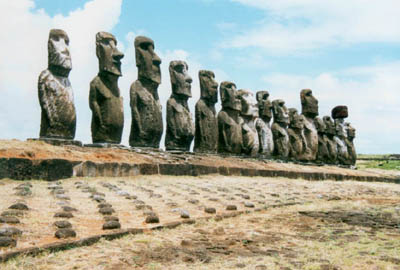 Then I returned to the town via Runa Pau, the quarry where they got the red stone for the "topknots", and seven more re-erected moai statues at A Kivi.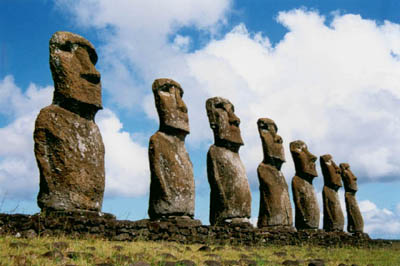 Further down the road I found a lava tube cave where some prehistoric people had lived, and I couldn't resist the urge to wander into it despite having no light!
On my second day with the bike I did the other, longer, road to the North of the island (18km). At the end there is an excellent beach (where I managed to get a bit sunburnt - silly me!) and some more re-erected Maois to see, these ones being some of the few to have their topknots in place.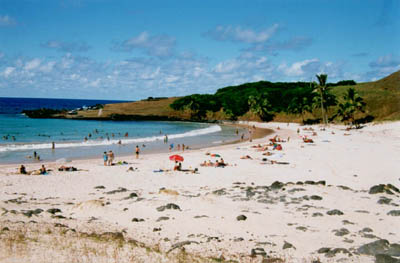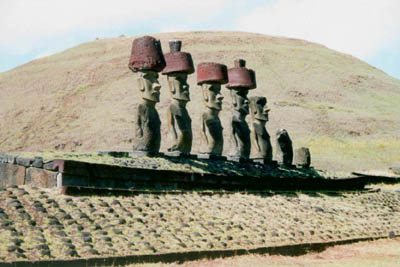 I was lucky enough to be there during their annual cultural festival. So after spending the daytime cycling around looking at the ancient archaeology I could spend the evenings watching the locals singing and dancing. It wasn't easy to work out what it was all about as it was mostly in Rapanui, but it was spectacular to watch. The first evening was the opening ceremony with lots of tri- or quadrilingual speeches followed by a re-enactment of some ancient ceremony. On the second evening they held a traditional Rapa Nui wedding, and on the third a sort of talent contest. I think that just about every resident of the island took part in something or other, either singing in a choir or dancing or playing an instrument. The one word of the Rapanui language that I will remember is "'opa 'opa". Can you guess what it means? It's an accordian!
The population of Easter Island is about the same as Lytchett Matravers, so it is interesting to see how well they manage being so isolated. The Chilean government is very proud of its one bit of "empire" and pumps lots of subsidy into the island, and apparently the residents get a free flight to Santiago each year. This presumably helps to integrate them with the rest of the country, but culturally they still have a lot more in common with the rest of Polynesia than they do with the Latin Americans. They seem to be reasonably well off, though tourist numbers and accomodation prices seem to be quite low. It was definitely worth spending a few days there.
© 2002 - 2003