Backpacking in the Jotunheim National Park, Norway, 1997
Introduction
Now that I've been to Norway I wonder why I left it so long. It is a truly fantastic place and I will certainly be going back.
For this first trip I chose the best known mountain area, the Jotunheim National Park. This area contains Norway's highest peaks and is more accessible than the more wild areas further North.
Wild camping is allowed nearly anywhere in Norway and since I don't particularly like mountain huts I decided to make this a backpacking trip. In order to keep the weight of my rucsac to a minimum I invested in a very light sleeping bag (a Mountain Equipment Dewline, less than 700g) and a hooped gore-tex bivi bag "tent" (about 1200g). Along with cooking gear, clothes and other bits and pieces my bag weighed 13kg which even I can carry without much pain. To this I added 6kg of food which was more than enough to last the 9 days that I was backpacking for.
I flew to Oslo and made my first mistake by arriving in the middle of a football tournament. On the advice of a helpful lady in the tourist office I avoided the official campsite, which is right next to the football stadium, and spent the night camped by a lake in a park at the North end of the number 3 metro line. There can't be many capital cities in the world where you can do that! The next morning after touring Oslo in search of meths for my trangia stove (Rødspirit if you ever need to know) the trip began...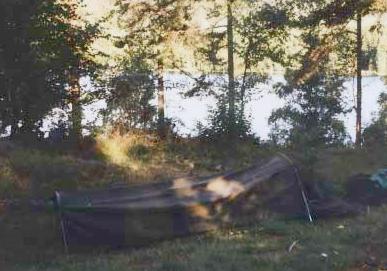 Day 1: Travel.
My trip started with a four hour train journey North from Oslo to Otta, followed by a couple of hours on a coach to Gjendesheim. This journey passed through some fantastic scenery, particularly the last part of the coach trip, and enthused me about what was to come.
Once I got to Gjendesheim I quickly left the tourists at the car park and tourist kiosk and walked about 3km in the late afternoon sunshine up to Bessvatnet where I made camp at the water's edge.
Total for the day:3km, 300m.
Day 2: Rain!
This should have been my first day of proper hiking but I woke to the sound of heavy rain on the outside of the tent, and it continued the same for most of the day. Not wanting to get everything soaking wet right at the start of the trip I decided to sit it out. At this point the body sized (or perhaps coffin sized) tent seemed a bad idea.
Day 3: Besshø, Bandet and Veslefjellet.
It was still rather cloudy but not actually raining so I decided to risk an ascent of the large lump at the other end of the lake - Besshø, 2258m. The climb was straightforward enough, but visibility dropped to next-to-nothing once I got up to the summit ridge. This seemed fairly airy from what I could see - to the right there was an enormous drop to Russdalen - over 1000m below - and to the left was Besshøbreen (glacier). My path between these two obstacles was in places only a few metres wide! The summit was marked by a well-built cairn but no view.
I left the summit and descended the steep South West shoulder to the cairned path at Bjørnbøltjørna and then down to the famous Bandet, a narrow rock ridge that separates Bessvatnet and Gjende. Bessvatnet is only a few metres below but the drop to Gjende is about 400m! A few sticks of dynamite could give Jotunheim a spectacular new waterfall...
I completed the day by returning over Veslefjellet (1743m). By this time the weather had improved and I could see Besshø - rather a lump from this side.
Total for the day:19km, 1300m.
Day 4: River crossings and Reindeer.
A pleasant day's walk along Russvatnet to a new campsite in øvre Russglopet. The only slight snag was a shortcut along the lake side which involved a couple of intrepid river crossings. I suppose that we British aren't used to the way that in glacial areas rivers are at their highest in the Summer. Anyway to cross the Blåtjørnåa I had to break off a couple dead tree branches to use as poles and wade up to mid-thigh through the rather chilly water. Next time I'll follow the path!
In the evening I had my first encounter with reindeer as a huge herd - certainly hundreds, maybe a thousand - wandered down the valley past my tent.
Total for the day:16km, 200m.
Day 5: Surtningssua.
This must have been the best day of the trip - Surtningssua, the 7th highest peak in Norway at 2368m, is a fantastic mountain. I packed up my gear and walked over the pass at the top of the øvre Russglopet valley to Hesltjørna. At this point I had my first proper wash of the trip and stashed all the camping gear to pick up on the way down. From there to the summit of Surtningssua I followed the cairned path. As I gained height the view became better and better, especially to the North over the austre and vestre Memurubreen.
Surtningssua itself seemed like a pile of loose rock until I reached the summit where the huge cliffs and the Blåbreen to the East came into view. Sitting on the top next to this huge drop would be enough to give anyone vertigo! The view of Besshø was also revealing as the huge drop that I had sensed in the mist turned out to be a 3km long 1km high cliff face. Perhaps it was a good thing that it had been misty.
After visiting the subsidary summit to the South I returned by the same route and made camp at the mouth of the Hesltjørna.
Total for the day:19km, 1150m.
Day 6: Sun and Rest.
After the fantastic day on Surtningssua I decided to take a day off and soak up the sun at my idyllic camping spot by Hesltjørna. I had also had some knee pain on the way down so that gave another excuse for taking a day off. This was a holiday, not an expedition!
Day 7: By boat and foot to Langedalen.
Having climbed the two highest peaks in this part of the Park I decided to move on to get some variety and chose the area between Gjende and Bygdin - including the familiar-sounding Langedalen valley.
As I walked down from my campsite to the mountain lodge at Memurubu I passed a lot of people on their way up towards Surtningssua - far more than I had seen on the summit a couple of days previously. Since the weather was much the same I could only conclude that most of those who set out don't make it to the top!
From Memurubu I boarded a boat for a 10km trip along Gjende to Gjendebu, and from there walked up Vesleådalen and Oksedalen. North East facing Oskedalstjernet was surprisingly icy, and the snow-covered path alongside it seemed rather precarious, but I survived and made camp a little later near the warmer Galdebergtjerna.
Total for the day:15km, 700m.
Day 8: Torfinns egga and Kvitskartind.
My plan for the day was to climb some of the nearby peaks, many of which had looked interesting from the other side of Gjende. I spent all morning wandering around finding that most obvious ascent routes were made awkward by patches of snow, but eventually I found a snow free route up to Torfinns egga (~2020m). From here I had an excellent view of some climbers attempting a traverse of the precipitous Torfinns tindane - something to try on a future visit! I then went North and reached the summit of Kvitskartind (2193m), from where there were excellent views of the local peaks, dominated by Mesmogtind, and the higher peaks to the East.
I finished the day with a short glacier crossing after descending Kvitskartind's North West ridge.
Total for the day:18km, 1030m.
Day 9: A Boat to Civilisation.
With some sadness I descended to Torfinsbu and took the boat - which claims to be Northern Europe's highest scheduled boat service - to Eidsbugarden at the other end of Bygdin. From there I caught a bus back to civilisation in the form of the main road at Tyinkrysset. This bus journey was one of the most memorable parts of the trip - as we drove along the unpaved road alongside Tyin lake there were the most fantastic views of the receding Jotunheim mountains reflected in the calm water. This definitely made me want to return.
Total for the day:9km, 0m.
Useful Information
Maps and Guides
I took the 1:100000 Jotunheim sheet from the Statens Kartverk Turkart series. Although this is a smaller scale than we're used to in Britain it shows plenty of detail. I bought it mail order from The Map Shop (phone 01684 593146) for £10.
Den Norske Touristforening have a shop and office in Oslo at Storgata 3, just a couple of hundred metres from the central station. They are the Norwegian mountain tourism organisation and publish guides and run huts. They have a comprehensive range of maps and guides for sale and people to help with your enquiries.
Costs
People tend to think of Norway as an expensive country but that wasn't my experience. Of course the current strength of the pound helps, but even so I didn't find it expensive in comparison with Switzerland for example. But most importantly the fact that you need never pay for accomodation in remote areas really brings the cost down.
My return flight from Manchester to Oslo cost about £220, and the train and coach fares came to less than £100.
Weather
I went in early August and after a couple of damp days at the beginning I had sun every day. During the day it was hot enough for short and T-shirt most of the time, and at night I was warm enough wearing thermals inside my very lightweight sleeping bag. However I am told that I was very lucky with the weather, so travellers should be prepared for worse conditions.
Insects
I went to Norway expecting even worse insect trouble than in Scotland, but in fact I was hardly troubled at all. There were huge mosquitos with reindeer hide piercing mouthparts, but there weren't clouds of them and they seemed to prefer reindeer blood to human blood. Perhaps they haven't evolved to see us as food yet!
A Note on Norwegian Mountain Vocabulary
The names of Norwegian mountain place names are incredibly easy for an English visitor to understand - certainly far easier than Welsh or Scottish names for example. The reason for this is that very many place names in Northern England, and especially the Lake District, were given by settlers of Norse origin.
Here are some examples:
| Norwegian | English | Meaning |
| --- | --- | --- |
| Dale | Dale | Valley |
| Tjørn or Tjern | Tarn | Small lake |
| Fjell | Fell | Mountain |
| Vatn | Water | Lake |
| Bekk | Beck | Stream |
| Foss | Foss | Waterfall |
| Egg | Edge | Arête |
There are a few words that aren't so obvious:
| Norwegian | Meaning |
| --- | --- |
| Bre | Glacier |
| Bu | Settlement or Farm |
| Tind | Peak |