Ben Lui
Tyndrum, December 1995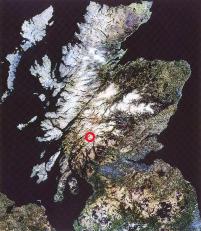 The New Year period in 1995/96 was very, very cold. Crianlarich hostel was warm though - the warden was keen to make sure that his pipes didn't burst! I had never been out in temperatures as low as -20, and was aprehensive about what it would be like.
A group of us decided to try an ascent of Ben Lui (1130m), "Calf Mountain". I had climbed Ben Lui once before with an inexperienced group in poor weather conditions; we had turned back a little short of the summit when the frozen scree got a bit too unstable for us. This time I knew it would be different; despite the cold the weather was dry and calm. Ben Wright and Rob Hardisty were certainly fitter than me, and Andy Ward, the fourth relatively new member of the team, would put all of us to shame with his energy.
The day started with a long walk in up a valley in thick fog. At this point we didn't think that the day was going to turn out to be anything special. But then the sky brightened and suddenly we had a view out over the top of the fog banks.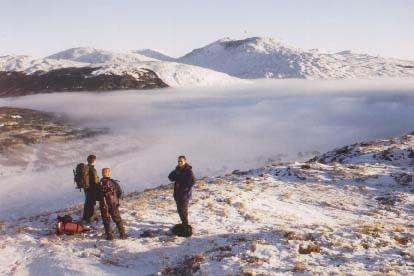 Looking across Strath Fillan to Ben Challum
Once we reached the ridge the views really started to open up; to the South Loch Lomond didn't have as much fog as the closer valleys, and Ben Lomond was very prominent.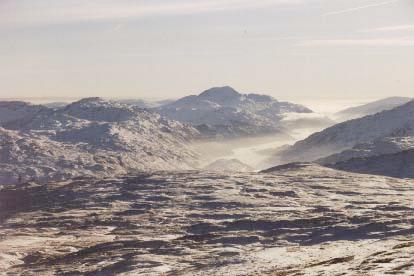 Loch Lomond and Ben Lomond
As we continued to ascent towards Ben Lui we kept stopping to look around at the views - though not for long as keeping moving was necessary to keep warm. While three of us walked in single file in each others' footprints, Andy wandered in all directions to take photos, seemingly with unending energy.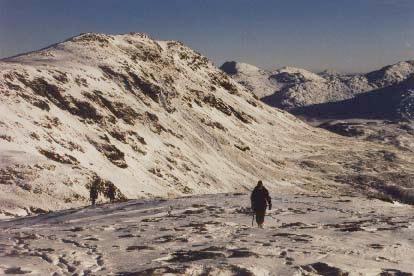 Looking back from the slopes of Ben Lui
As we reached Ben Lui's distinctive double summit with the steep cliffs into Coire Goathaich below, the light was already starting to fade. We made a rapid descent to the track and started on the 7km walk back to the road. By the time we got there it was dark, and very cold. It had been a memorable day.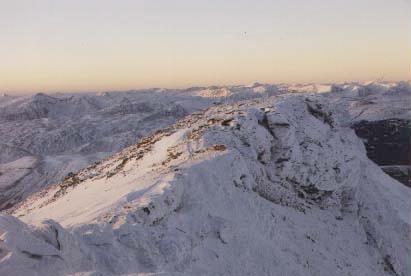 The Summit of Ben Lui
View a map of the area from streetmap.co.uk
© 1998, 1999