Beinn Eighe
Torridon, Easter 1994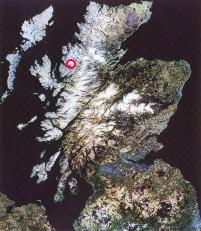 The hills around Torridon are some of the most beautiful in Scotland; each great lump of rock is quite separate from the next, like giant inverted bathtubs thrust up from the ground. Beinn Eighe, "File Mountain", is one of the best. This trip combined good weather, excellent snow conditons, a great route and excellent views of the surrounding hills. The four of us were me, Dan Short, and two Dutch students, Judith and Pia.
The day started with a long warm-up walk in from the road around the East end of Liathach to Coire Mhic Fhearchiar. This is one of the most beautiful spots in Scotland. Once you turn the corner into the coire, you see the lochan, frozen when we were there, and behind it the spectacular Triple Buttress.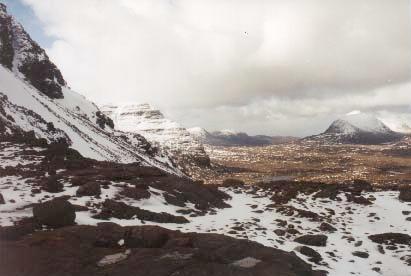 View from the entrance to Coire Mhic Fhearchiar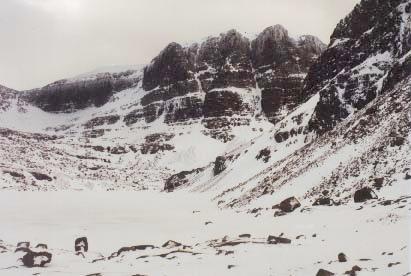 Loch Coire Mhic Fhearchiar and the Triple Buttress
We climbed a steep but easy snow slope to the right of the Triple Buttress to gain the ridge for the first time. From here we could admire the iced up climbing routes on the buttress itself on one side and the incredible ridge of Liathach just a couple of kilometers away on the other.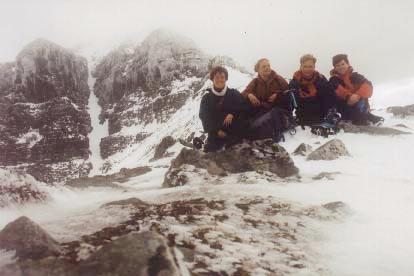 Group photo at the start of the ridge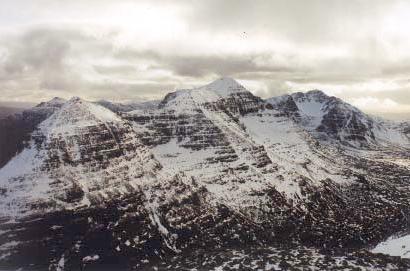 Liathach, 'The Grey Place'
At this point we found the most difficult stage of the ascent. Although far easier than any route on the Triple Buttress, the route up their right hand side towards the summit of A' Choineach Mhor was an interesting and exposed scramble. Apparently it is called Ceum Grannada - "the Ugly Step". Luckily it was calm and we didn't have any problems once the right route had been found.
A' Choineach Mor (975m), "The Big Moss", is the first of three main summits that we reached.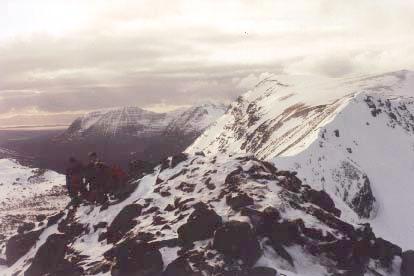 View of Ruadh-stac Mor from A' Choineach Mhor
From A' Choineach Mhor we made a detour to Beinn Eighe's highest summit, Ruadh-stac Mor (1010m), "Big Red Stack". Then we continued along the main ridge to Spidean Coire nan Clach (972m), "Peak of the Stony Coirre".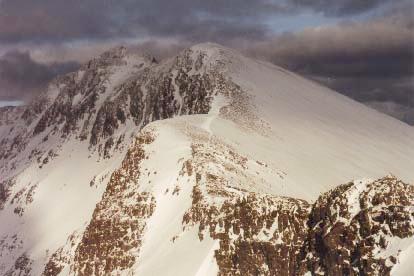 View East to Spidean Coire nan Clach
From this last summit the views were exceptional, especially looking towards that other great Torridon mountain, Liathach.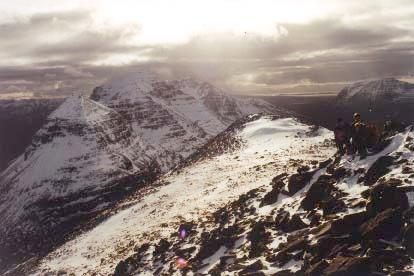 Liathach
View a map of the area from streetmap.co.uk
Links
Mountain Art has lovely prints of Liathach from Beinn Eighe and the Triple Buttress.
© 1998, 1999