The Aonach Eagach Ridge
Glencoe, January 1997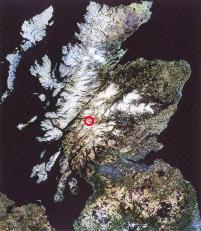 This was one of those trips where everyone gets through about a dozen rolls of film. For three or four days in Glencoe we had really fantastic weather with blue skies and no wind. Every day was memorable, but the traverse of the Aonach Eagach with Andy Ward was the best.
The Aonach Eagach, or "Notched Ridge", is widely described as the most difficult ridge scramble on the mainland. The ridge is about 3km long in all with precipitously steep drops on both sides. As a result it is very committing - once started there is no escape other than retracing one's steps. I had done the ridge once before, with Mark Voaden in 1993. We hadn't had any great difficulties on that trip, but this time there was rather more snow on the ground. We decided that to be on the safe side Andy should carry a rope; if nothing else it would slow him down to my pace.
The ridge has four distinct summits; starting from the East the first is Am Bodach (943m), "The Old Man", then Meall Dearg (953m), "Red Hill", Stob Coire Leith (940m), "Peak of the Grey Corrie", and finally Sgorr nan Fiannaidh (967m), "Peak of the Fians". The most difficult section is between the middle two peaks.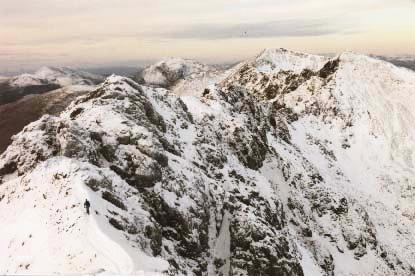 The Aonach Eagach from Meall Dearg to Stob Coire Leith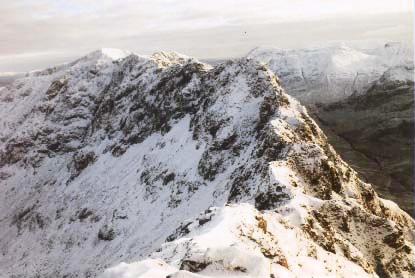 Looking back from Stob Coire Leith to Meall Dearg
Many of the difficulties can't be seen until you reach them - what you took to be a continuous ridge suddenly has an unexpected notch 10m deep for you to cross. In other places you can't believe that you really have to go right over the top of a pinnacle and start looking for routes around the side, but of course there are none, and the crampon marks of the people in front of you go straight over the sharp bit.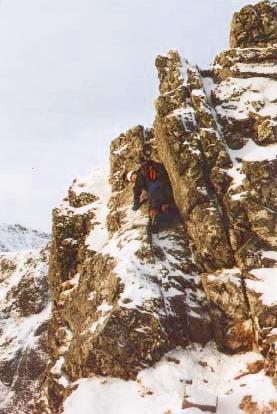 Andy negotiates one of the more tricky bits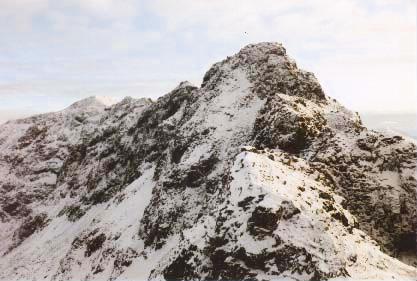 Meall Dearg
Andy and I kept up a good pace and in the end the rope stayed in the bag. It was hard enough to be exciting but not hard enough to scare us (much).
Finally we reached the calm, flat finishing point of Sgorr nan Fiannaidh from where we could take in the breathtaking views in all directions. To the North, Ben Nevis dominated the skyline. To the West lay the sea and snow capped hills far in the distance. To the South the massif of Bidean nam Bian at the other side of Glencoe. But most impressively the view to the East behind us along the ridge we had just undertaken.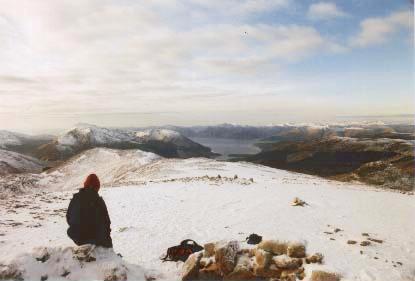 View Westwards from Sgorr nan Fiannaidh
View a map of the area from streetmap.co.uk
© 1998, 1999