15 October 2002: San José, Costa Rica
Subject:
Costa Rica
We're back in San José and tommorrow we're flying to Lima for the next bit of this adventure - I'm looking forward to it! So there's just time to write up what we've been doing for the last few days.
Montezuma
Montezuma is on Costa Rica's pacific coast, at the end of the Peninsula de Nicoya. It's a smallish village with a nice beach, and more beaches in walking distance, and it's popular with surfers (yeah dude). Christine says she prefered it to Cahuita on the Caribean coast, but I prefered Cahuita - it had fewer pizzerias. But it was certainly a good place to stay for a couple of days.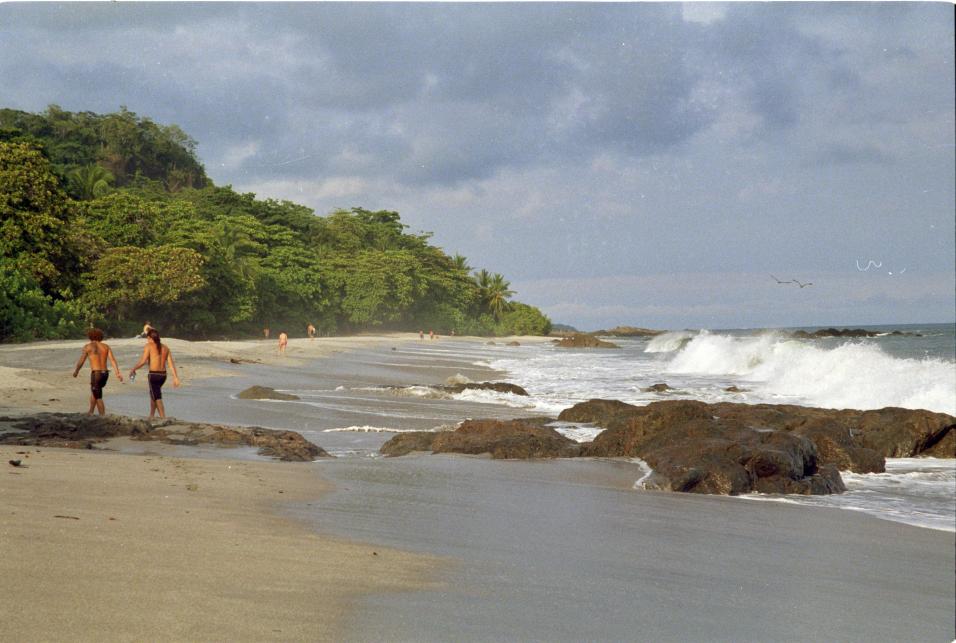 We had a real treat on the first night: a green turtle came to lay her eggs on the beach just yards from where we were staying! She dug her hole, layed the eggs in the bottom, buried them and crawled off down to the sea, just like we've seen on the telly! Sadly the experience was rather spoilt by the dozen or so people who came to watch, and were crowded so closely around the poor animal that they could, and did, touch her while she was digging and laying.
Christine found lots of other interesting things on the beach: Shells! She has definitely got the family shell-collecting gene and will be posting home hundreds of them, of dozens of different sorts.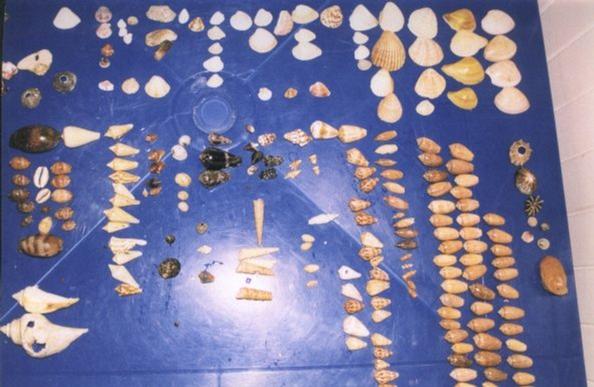 In a quest for more wildlife I hired a dodgy bike and cycled to Capo Blanco nature reserve. I think I was one of only three visitors: not too surprising as there is a US$8 admission fee, which doesn't even get a copy of the nature trail leaflet - that's another three pounds for a single sheet of paper! Anyway, without the leaflet I was still able to spot Capuchin and Howler monkeys, two Agoutis, and a group of Pikotes - racoon-like thinks with silly noses that poke around in the forest floor looking for tasty morcels. The path leads 4km through the jungle to a lovely beach where I took a swim and looked at the Iguanas before heading back. There were various birds too; mostly unremarkable, but I did get to tick off a Lineated Woodpecker.
Monteverde
We left Montezuma and spent a day heading inland to Monteverde, a famous nature reserve established by a group of Quakers who settled in Costa Rica in the 50s inspired by its lack of an army. They cleared lots of jungle to raise cows but preserved some of it for visitors. Anyway, we spent a day wandering around in the cloud forest and saw almost nothing: no mamals, and next to no birds. Most interesting was a Black Guan, a bird that is supposed to have turkey-like meat. We actually saw more wildlife on the road outside, including three Turquoise-Browed Motmots (or was it a Blue-Crowned?) - quite colourful birds that perched cooperatively on a branch for us. I'm not doubting that Monteverde is important as a conservation area, and the forest itself is quite interesting to look at, but you get a lot more to see for less money (the entry fee is US$12!) elsewhere.
This view is me near the continental divide: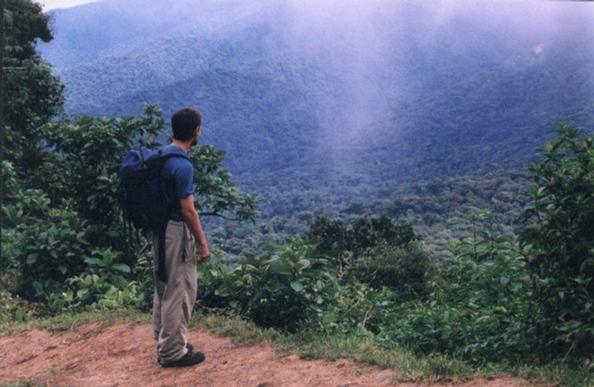 To make up for not seeing anything in the reserve we visited a couple of the other attractions in the village: an orchid garden and a frog-and-toad place, both of which had interesting and photogenic things to look at. Here is one of the many lovely orchids, thanks to Christine's close-up lens: