25 August 2002: Banff, Canada
Subject:
Canada
I'm back in Banff. I wasn't really planning to be back here, but the campsite in Lake Louise is closed (bears on the prowel!) and the hostel is full, so I'm here for a night before moving on. But is does give me a chance to keep all you eager friends and relatives up to date with my news.
Mosquito Creek
Mosquito Creek hostel must be one of the world's few remaining "primitive" hostels, with no mains water, electricity or drainage. They have UV-treated stream water, pumped by a solar pump, gas lights and fridges, and a wood-burning sauna! It's very rustic and pleasant, and full of all sorts of interesting people. (Plus, as usual, a few uninteresting people who go to bed late and make lots of noise.)
I was there for three nights and two days, and as predicited I did get up early enough to do some proper walks. On the first day I climbed Observation Peak, a thousand metres of mostly hard-work clambering up scree. But it is certainly worth it, and I made plenty of stops during the ascent to look behind at the unfolding view. The starting point is the pass between the Bow river (which flows South through Banff and Calgary) and something else that flows North into the Sascatchewan and through Edmonton. These rivers both flow from glaciers on the mountains opposite, and flow first into lakes that are a bright turquoise colour because of the galcial material that they are carrying. From Observation Peak these lakes, Bow Lake and Peyto Lake, are almost mirror-images of each other to the left and right. Behind them more and more snow-capped peaks became visible, and eventually as I reached the top I could see not only the range opposite but higher peaks in the range beyond. Most distinctive was the easily-recognised Mount White-eaves. This picture is Bow Lake from about half-way up.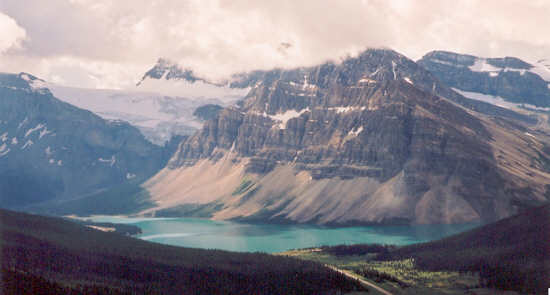 Then on the second day I took an easier option and just walked up Mosquito Creek itself. This leads through the woods and eventually up to an alpine meadow and lake before crossing a pass into another valley. But to make the walk more memorable I was accompanied by Petzl, the hostel manager's dog, who set a very good pace and knew exactly where he was going.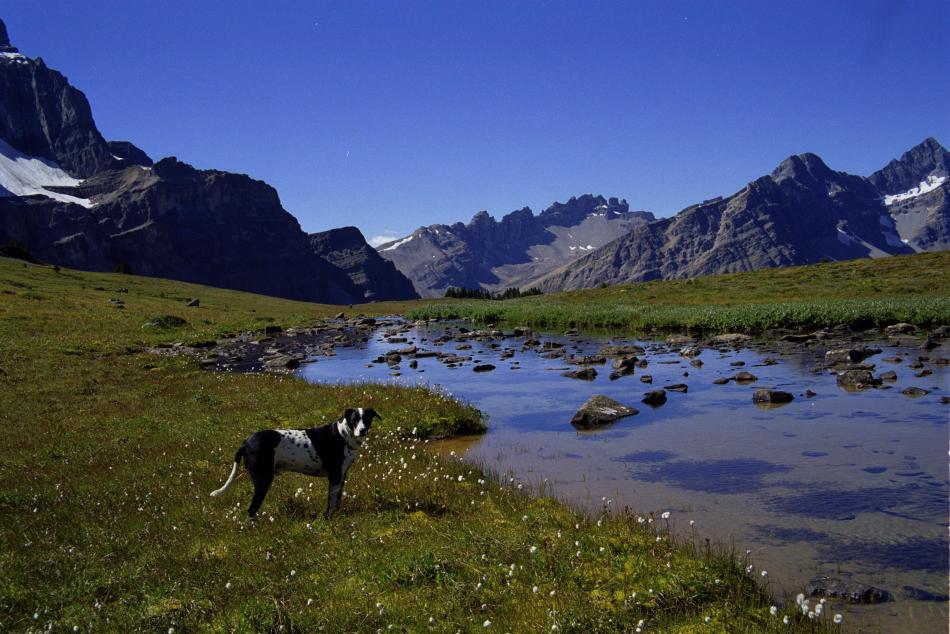 So although these mountains were impressive I knew that higher and snowier ones could be found further North, and I set off for the Columbia Icefield. I got a lift with another English guy from the hostel, and on the way we stopped off at most of the touristy viewpoints. Here's another view of Bow Lake: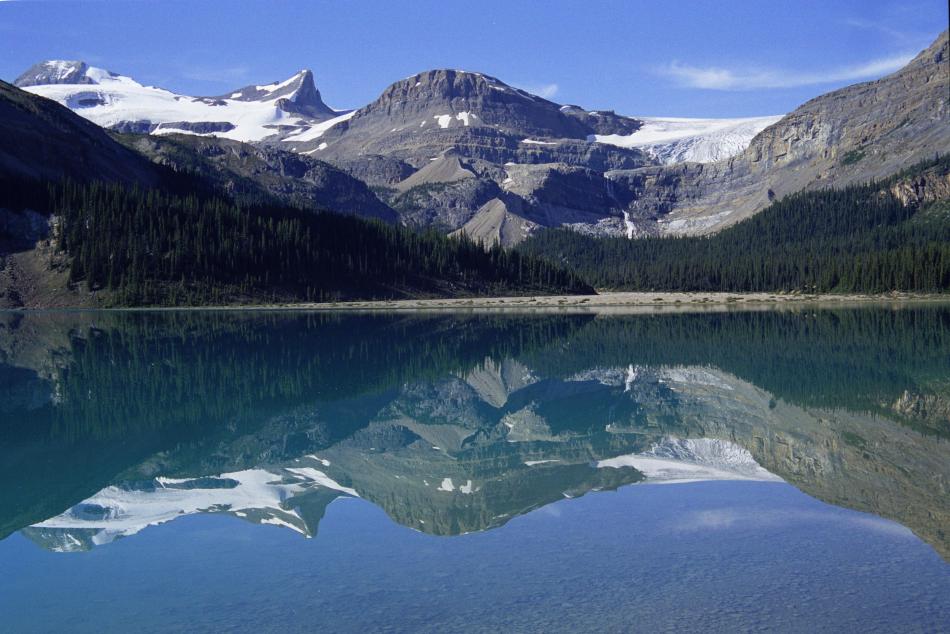 Columbia Icefield
It was back to my tent here as apparently the hostel burnt down! The Columbia Icefield is a huge sea of ice from which several glaciers flow in different directions. One of them, the Athabasca glacier, is right next to the road and has been made accessible to "bus tour" tourists and others by "sno-coach" tour. It's a bit of an eye-sore but at least it is only one of them. The high point of the icefield, the Snow Dome, is significant because from here ice flows three ways: North to the Arctic Ocean via the McKenzie river, West to the Pacific, and East to the Atlantic via the Sascachewan river and Hudson Bay. For a properly-equiped group of more than one, getting up onto the icefield would not be difficult, and the campsite was full of people getting up before dawn to make glacial ascents. But you do need someone to hold on to the end of the rope when you fall down a crevace, so I satisfied myself with an ice-free ascent.
The peak I chose is not named on the map, but one of my guidebooks calls it Boundary Peak because it lies on the boundary between Banff and Jasper national parks. Like Observation Peak it is mostly toil up scree and actually climbing up the glaciers would be far more pleasant. But the ascent was well worth it for the excellent views. Right next door is Mount Athabasca, a huge snow-capped peak with glaciers coming from all sides, and next to it is the Snow Dome and Mount Kitchener. Then, in the distance and visible in gaps between the others, are Mount Columbia, a 3700m monster, and Mount Sascachewan, a peak with such an interesting shape that it gets its picture on the banknotes (or so I am told). This picture is me in front of Mt Athabasca.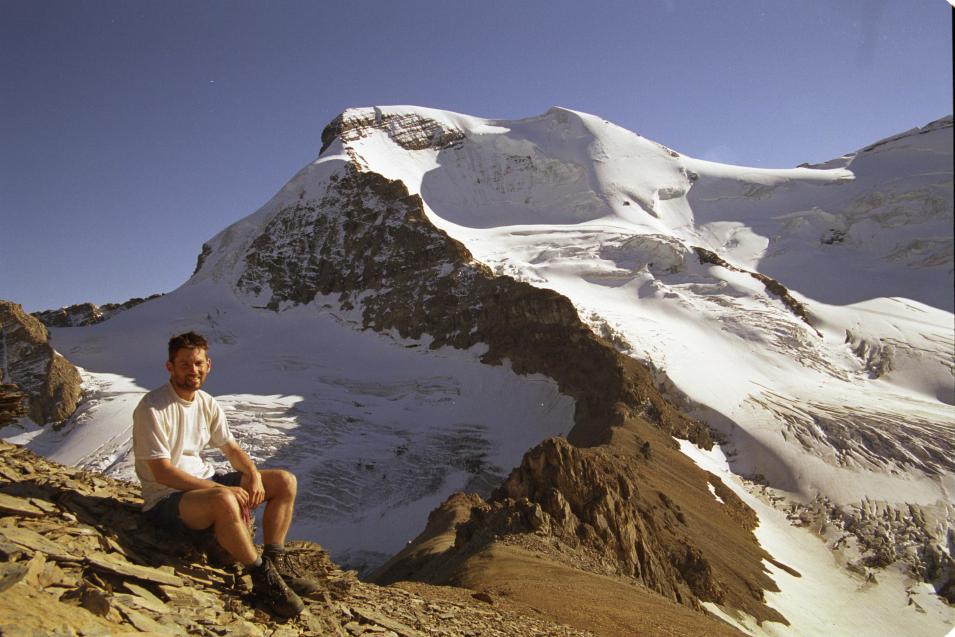 And here is the Snow Dome: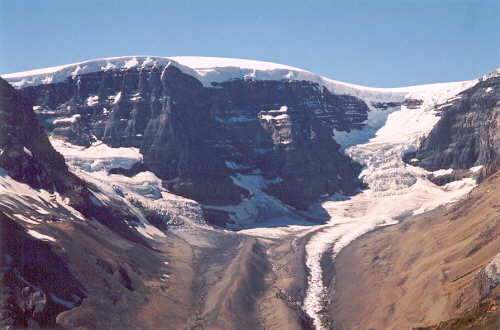 My second day could not rival that, with just a bimble up to the hill behind the campsite for one last look at the view. Now I'm back in Banff for a night, and will be crossing into British Columbia to visit Yoho National Park tomorrow.