14 June 2003: Seoul, Korea
Subject:
Hong Kong
Hong Kong
I was in Hong Kong for just over 24 hours and had time to see only a few of the sights. It's quite a spectacular place and quite cheap at the moment thanks to SARS - apparently Cathay Pacific bookings are down 75%! (Though cheap is relative - it's still expensive compared to Bangkok, for example.)
It was raining when I arrived (though there was still a good view from the plane as we came in to land) and after walking around Kowloon looking for a restraunt with a menu in English (fewer than you might expect) I went to the History Museum. This is excellent, one of the best museums I've been to on this trip. It covers the whole history of Hong Kong from a billion years ago (geology) to the present day. Highlights included the traditional village, showing the agricultural life that is now history in Hong Kong but still goes on for millions of people in mainland China, and the reconstructed colonial-era shops.
Then I took a ferry over to Hong Kong Island. This was as the sun was getting low and the light relecting off the skyscrapers made then look very spectacular.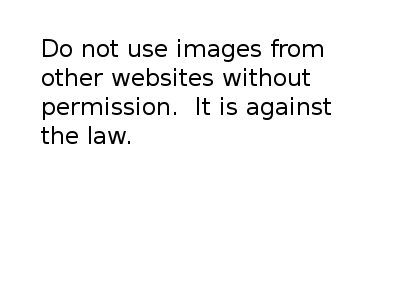 Being a pedestrian at ground level in central Hong Kong is not a highlight - you are siphoned through subways and bridges and walkways that may or may not take you to where you wanted to go to. After a short stroll through the park with its artificial waterfall I took the "tram" (actually a funicular railway) up to the peak. It was dark by this time and I was treated to the classic view of Hong Kong's skyscrapers at night - well worth seeing. Then it was back over to Kowloon for more views - here they are all lit up: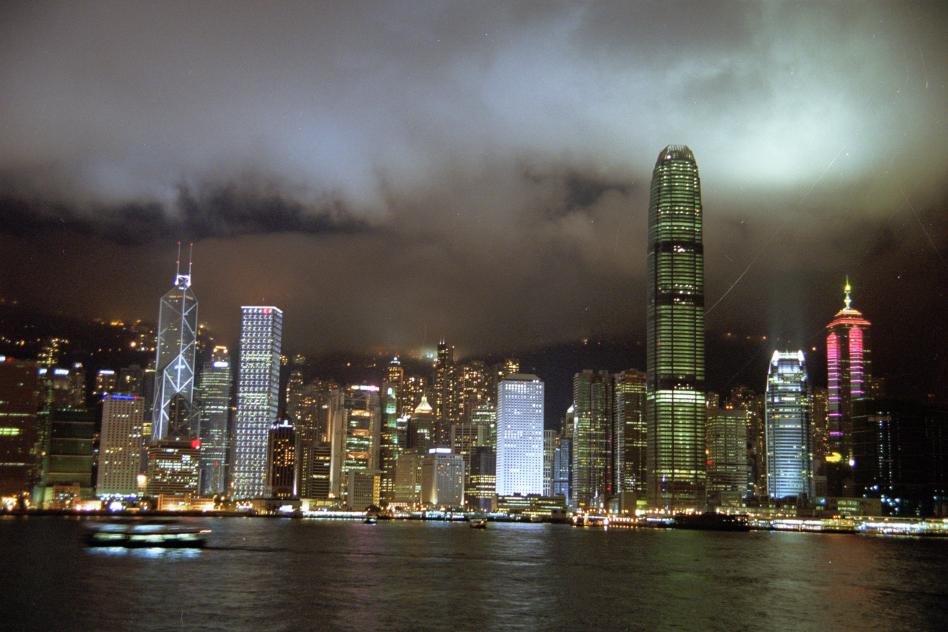 And another one: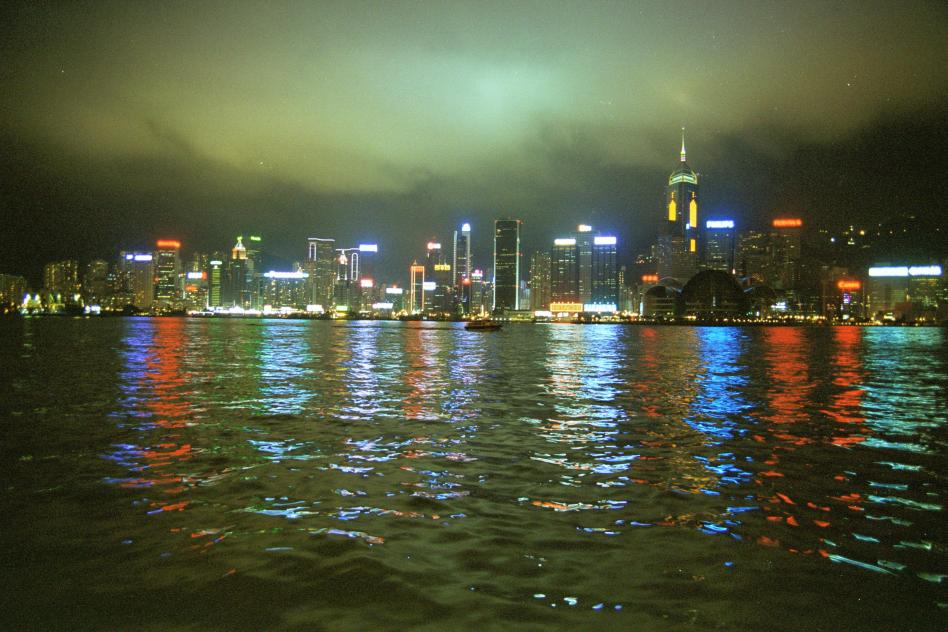 On my second day I stayed in Kowloon and looked around the shops. There are plenty of interesting Chinese things to buy, though I bet they're cheaper if you go to China. Then it was back to the Airport. Chep Lap Kok is built on a huge artificial island just of the coast of Lantau, the largest island in the territory. Lantau is joined to the mainland by a series of spectacular bridges, one a suspension bridge and the other two cable-stayed bridges. Going over them by coach when I arrived gave a good view, but going back on the train was not as scenic - the railway tracks are inside the bridge and you might as well be in a tunnel. See http://www.cityu.edu.hk/CIVCAL/book/bridge.html for some pictures of the bridge.
So now I'm in Seoul, staying with Andy Ward. Over the last decade they have been busy rebuilding some of the cultural heritage that the Japanese razed during their occupation (1910-1945) and there are several nice palaces to see. Then maybe I'll go and climb some hills.