19 May 2003: Siem Reap, Cambodia
Subject:
Cambodia
Well after an all-day bus journey from Bangkok I eventually got here to Siem Reap, tourist capital of Cambodia. It's not a country I ever imagined that I'd visit but I'm very glad that I came here. Just up the road are the famous temples of Angkor, but first...
Happy Birthday to Me!
My birthday was on the 17th and I had a great time, thanks to Siem Reap's Norwegians! I share my birthday with Norway - it is their national day. So Meg and Aina, the two girls I've been travelling with since Bangkok, met up with half a dozen of their compatriots for a night at the "Angkor What?" bar. Here are the last five of us left in the bar at the end of the evening: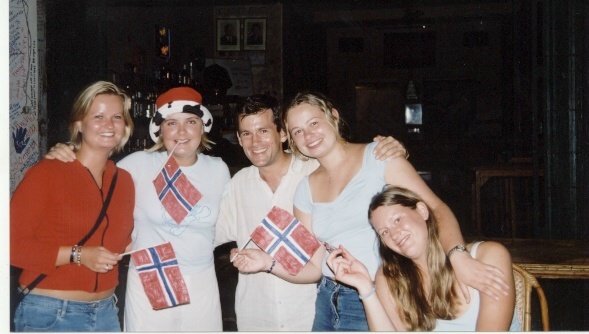 The Temples of Angkor
Back in about 800AD the Khmer nation came into existence and they started building things. For five hundred years or so practically every king built some sort of temple. Then the capital moved from here down to Phnom Penh and the jungle started to take over. The French did a good job of exploring, recording and conserving the ruins until 1972 and the start of Cambodia's long series of civil wars (an appauling story, not least because when the Cambodians were liberated from Pol Pot they made the mistake of being liberated by the communist Vietnamese; they were so hated by the Americans that the Khmer Rouge kept the Cambodian United Nations seat for another decade and no international aid got into the country). In the last few years things have got a lot better here and I don't hestitate to recommend it as a place to visit (as long as you can cope with the heat). It is certainly going to need a lot of visitors to fill even half of the rooms in the huge luxury hotels that are now being built.
We spent three days looking around the temples. On the first day we spent the morning at the city of Angkor Thom, which is enclosed by a moat and wall and had an estimated population of a million people! Here is the south gateway: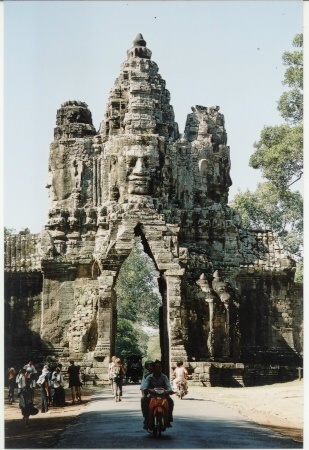 Inside there are several temples, the largest of which is the Bayon. Like most of them it is a tiered structure ("pyramid" - obviously inspired by aliens :-) ) with concentric walls. There is lots of nice carving, including many images of the king's face on the towers representing his omnipotence. Here is a detail from a column showing a couple of Apsara dancing figures: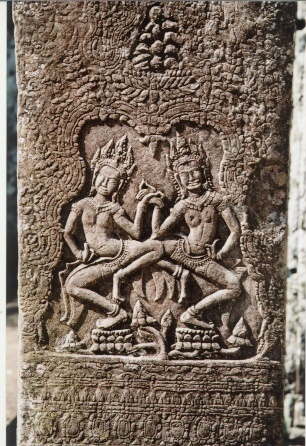 There is also a three hundred metre long terrace wall with life size elephants carved into it. Here are two heads of a three-headed elephant plucking lotus flowers with their trunks: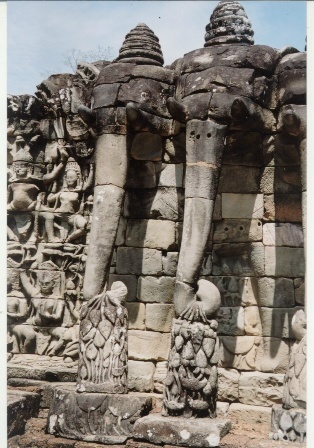 In the afternoon we went to Angkor Wat itself, a spectacular temple built on three levels with a moat around it that apears on the Cambodian flag.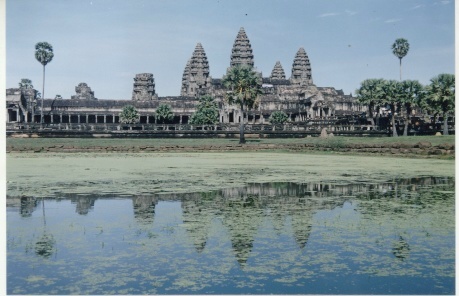 It features some excellent bas-relief wall carvings depicting military parades, religious scenes (Hindu and Buddist - they were influenced by indians because of the sea trade routes between India and China), and a few bits of daily life which looks quite similar to life in the countryside today.
Some structures are well preserved and others have been well reconstructed, but on the second day we saw some that are so in the grip of the jungle that it would be impossible to remove the trees - the strangler figs grip the stones in their roots, both crushing and supporting them at the same time.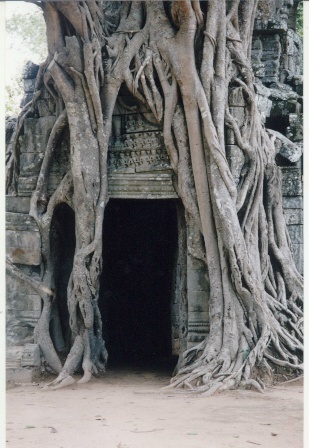 On the last day we went to Banteay Srei, a more remote temple that is has been carefully conserved and has excellently preserved carvings, partly because they used good quality sandstone. It's clear enough that you can easily follow the Hindu epic stories being depicted. On this pediment, Indra is casting down sacred rain (the diagonal lines half way down):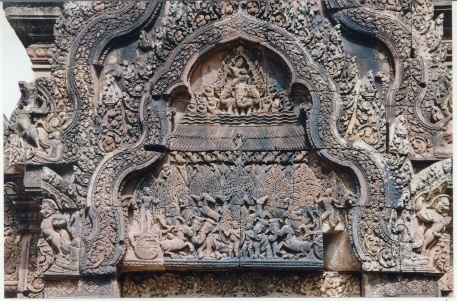 So that's all from Siem Reap. Next stop Phnom Penh and then Vietnam.