Mexico
10 September 2002: Mexico City, Mexico
Greetings from Mexico! I´ve been in Mexico City for nearly a week and tomorrow I´m flying to Campeche, up in the Yucatan peninsular. So here are a few words about what I´ve been up to here.
Mexico City - First Impressions
What are your preconceptions about this enormous city? Air pollution, crime, poverty? Well none of those have particularly struck me. True I did go up to the 42nd floor of the Torre Latinamerican and you couldn´t see very far from the top, but how many people have had no view from the Eiffel Tower or the London Eye? And there are certainly no more beggars here than you would find in London or Manchester. In all it´s a very bustling place with things going on all the time.
The place is crawling with police. I mean literally dozens on each street corner, with different coloured uniforms with different amounts of braid and many of them heavily armed. I don´t know if this is normal, but it just makes me think "if each of those salaries could be going to a teacher or a doctoer".
I´ve been lucky to come when I have. The 15th September is Independence Day, and they´ve been having an extended fiesta for a week already. I´m staying right next to the Zocalo, the main square in the historic centre, and on Saturday night they had Mexico´s answer to Frank Sinatra (or maybe Tom Jones) crooning away all evening. During the day the square is full of stalls, including huge marquees full of handicrafts. Quite a spectacle.
History (Ancient)
Most of the obvious things-to-see here are the pre-conquest archaeological remains. I took a bus out to Teotihuacan (quite an adventure in itself - but at least there is a bus); this is the famous place with pyramids built by the Aztecs (or should that be the Mexaca - not too sure about those two). Very impressive, but infuriatingly full of hawkers trying to sell plastic pyramids and similar tat. Also, I realised after a while that it had all been quite substantially reconstructed in the early 1900s. They don't make that very clear - but today I went to the national art museum and a 19th century painting of the site that made it quite clear how much it had been restored. They now think that the restoration added one more step to the pyramid than it should have had!
Teotihuacan is about 40km from the city centre and was relatively undamaged during the conquest. But a similar temple complex existed here in what is now the centre of Mexico City, and that got flattened (and much of the stone used to build the impressive and wobbly cathedral). They started digging it up in 1978, and thanks to the conquistador´s flattening the seven stages of construction have been revealed - periodically they built a new pyramid and temple over the top of the old one, and the altar of the bottom one is now visible. Very impressive, though it helps to see the cut-away model in the museum before looking at the rocks! These pictures are of a "Chac-Mool" figure (their rain god) on the exposed bottom-layer altar, and a stone thing with skulls carved in it; it would have had the real skulls of their sacrificial victims stacked on top.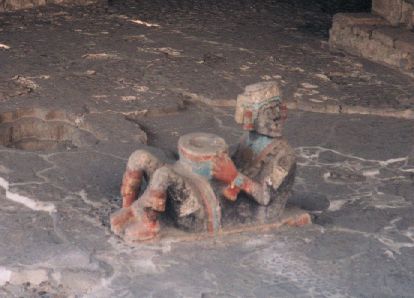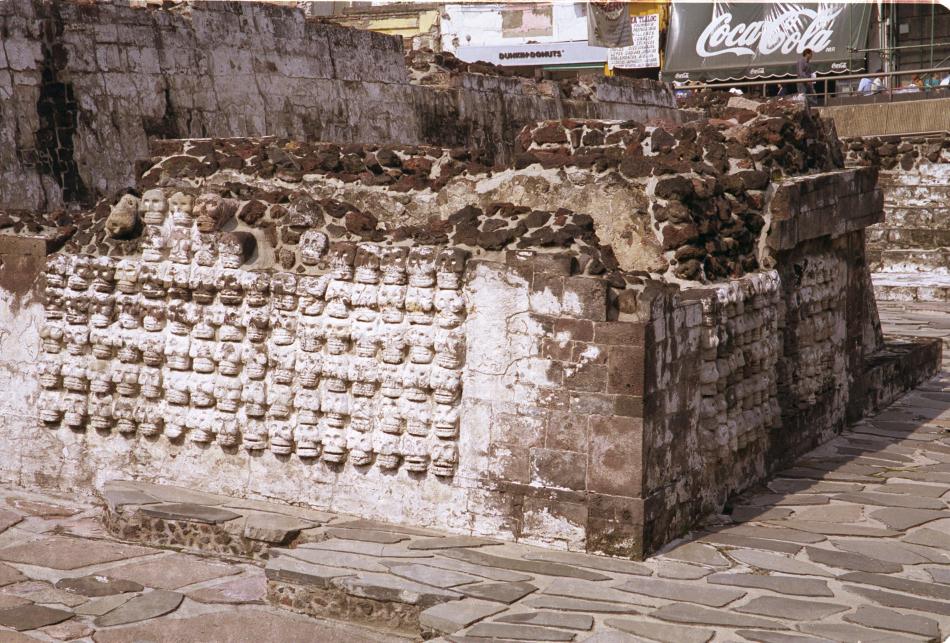 History (modern)
So for a bit of variety I went to see Trotsky´s house, where he lived in exile in the late thirties and early forties, until he was assasinated (Stalin had condemened him to death in abcentia). Having just read Animal Farm it was all very fresh in my mind! It's a fascinating little place, and quite an oasis of calm in this very busy city: I saw my first humming-bird among the flowers.
Trotsky was invited to Mexico by a group of left-wing artists including Diego Rivera and Frida Kahlo. Rivera is famous for his huge murals, and it was worth the security checks getting into the presidential palace to see his work there. He painted a huge wall above a staircase depicting the history of Mexico, and some smaller pieces including "what the Mexicans have given the world" (Chillies, rubber etc.). There are some pics at http://www.diegorivera.com/murals/ but they look more impressive full-size.
14 September 2002: Mérida, Yucatán, Mexico
Just time for a quick update. Here's a of the area.
Campeche
The Yucatan peninsular is divided into three states, Campeche, Yucatan and Quintana Roo. Campeche is on the left; I flew there from Mexico City and will be flying on to Costa Rica from Cancún on the opposite coast. I've got about a week to cross the peninsular.
The town of Capeache, capital of the state, was founded by the Spanish settlers on the site of a Mayan town. It was their main port on the peninsular and the place through which much of their plundered riches left the country. This drew the attention of the Caribean pirates, including I think Francis Drake (he has a restraunt named after him, so I have put 1 and 0 together and made 10...). Anyway the place got ransacked quite horribly and eventually they put up a wall, parts of which still stand, along with the defensive bastions at the corners. It is historic enough to be listed by UNESCO as a world heritage site (their list makes a great way to choose your holiday destinations) and they have put some effort into making it appeal to the tourist trade.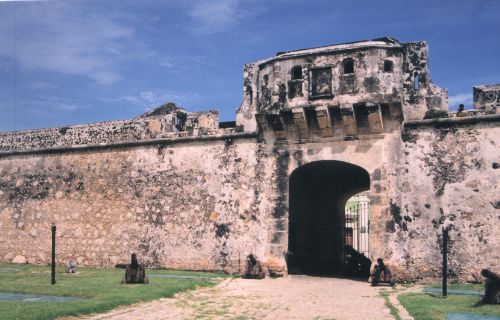 I was there for just a day, but it was enough to at least see the difference from Mexico City. One of the first things that I noticed was that it wasn't crawling with police, and the few I did see were wearing shorts and riding bikes! Very Californian, I thought to myself. Then there's the weather; Mexico City was hot and it rained every afternoon (some of you will remember that I bought myself a new pair of shoes before I left with some orange bits on - well thanks to one especially torrential downpour I now have bright orange patches on one pair of socks!). On the way to Campeche I watched a thunderstorm out of the window of the plane, which was quite an experience. Anyway, having come down from 2000m to sea level, it is a bit hotter, but still essentially the same - hot, and rain every afternoon.
Noise
I would like to say that small-town Campeche was more quiet and laid-back than Mexico City was, but I don't think that's true. They make up for the fact that it is smaller by creating more noise. I think the Mexicans like noise. On the first-class buses, for example, they show a video, and the volume is so loud I'll be taking ear plugs next time. And practically every cafe have a TV or radio blaring out. But worst of all, in Celestun, one of the bastions in the old wall has been turned into a walled garden, full of palms and other interesting tropical plants. It should be an oasis of tranquility, but to ensure that it isn't they have a radio to fill it with noise!
First major screw-up
Leaving Campeche to come to Mérida I made my first major screw-up of the trip, for which I blame the Spanish and the Mexicans for not speaking the same language (no, it can't possibly be my fault!). I went to the bus terminal at about noon and asked for a ticket on the next bus to Mérida, and was told that it was at "dos y treinta" (that's "two and thirty"). "How strange", I though to myself, "why is she converting from 24- to 12-hour clock? Maybe she thinks I'm an American!" (Note how I try to further displace the blame from my own shoulders at this point...). So I spent the next couple of hours waiting, having my lunch and so on. Then when I tried to check in my luggage my mistake was uncovered. Plainly printed on the ticket it said "1230". How did I misunderstand that? Well "1230" is "doce treinta", which in spain would be pronounced "dothay traynta", quite distinct from "dos y treinta". But over here the C is pronounced like an english S, not as a lisped TH, so it comes out as "dosay treinta": to my ear, practically the same as "dos y treinta". Well, I got here in the end - and they kindly refunded half the cost of the unused ticket.
Celestún
Yesterday I went from Mérida back to the coast at a place called Celestún, known for its flamingoes. Here's a . Unfortunately this isn't really the right time of year to see thousands of flamingoes, but the boat trip is still worthwhile and we did get to see a few dozen bright pink ones. They take you out on eight-seater boats with huge outboard motors that whizz you along at quite a rate - they have to, as the interesting places are quite a way away. It's not like Poole Harbour bird boats that's for sure. Anyway they take you down the coast and then turn, practically doubling-back, into a mangrove-lined estuary. The mangroves are fascinating, looking like trees whose roots have been exposed. We stopped at one point to go ashore and see some petrified trees that were killed off 120 years ago when their roots became innundated by salt water; but more interesting than the trees were the crabs (the sort with huge claws - what are they called?) living down holes all over the place. Then we stopped again at a point where fresh water whells up from a cave; practically the whole of the peninsular is limestone and it's full of caves. On the way back we saw another fresh-water spring which, like something out of a pirate story (or, dare I say it, Enid Blyton) was out in the estuary and had been built up from the sea bed in a kind of stone well, so that the fresh water could be collected by passing boats.
After the boat trip I had a swim and the water there in the Gulf of Mexico was unbelievably hot - almost too hot! And the beach was white sand and millions of shells. All in all an excellent way to spend the day.
Next...
Now I'm back in Mérida, and will be leaving this afternoon to go to Valadolid, East of here. From there I plan to visit Chichen Itza, the most famous Mayan site, and hopefully some of the show caves. More news soon!
20 September 2002: San Jose, Costa Rica
I've now arrived in Costa Rica, and it's time to write up my final comments about Mexico.
Update: it looks as if I left just in time, as a hurricane has hit the very area that I was staying in. Here's the BBC News coverage: http://news.bbc.co.uk/1/hi/world/americas/2275002.stm
Valladolid
I spent a couple of nights in Valladolid, a smallish town in the middle of the Yucatan peninsular close to the famous Mayan ruins at Chichen Itza. It has a pleasant hostel with a nice garden and hammocks to laze in (with raido of course - but not too loud). And it has caves!
Chichen Itza
Chichen Itza was an important Mayan site, complete with pyramid-shaped temples. It's a bit better preserved than Teotihuacan with the temples on top of the pyramids intact - perhaps because the rock is more substantial than the light volcanic stuff there. It also has a well-preserved ball court where they played their ritual ball game, with stone hoops to get the ball through in the walls, a steam bath, and lots of stone columns.
For me the most striking difference from Teotihuacan was the refreshing absence here of hawkers trying to sell things - excellent.
The whole Yucatan peninsular is limestone and there are caves everywhere. In most cases, because the land is flat and the water table is relatively high, the caves are just holes with water in the bottom - "cenotes". These things obviously interested the Mayans a lot, probably related to their rain god, and Chichen Itza has a sacred cenote. It's a big vertical-sided hole in the ground whose sides are scoured almost as if it had once had a giant whirlpool in it. At the bottom is a pea-soup-green lake. Aparently messages to the gods could be sent via this portal by dispatching a messenger with rocks tied to his feet. The bottom has been dredged and lots of bones and other artifacts found.
Independence Day
September 15th is Mexico's independence day, which is celebrated with a public holiday and public fiestas. Valladolid's central square rocked to the sounds of a pretty decent local band, and the other Europeans from the hostel and I got a fair bit of attention from the crows as we boogied away. Then they elected Señorita Valladolid 2002, someone read the Act of Independence of 1830, and we got a speach which I didn't really follow apart from "¡Viva Mexico!". Then they poured bits of crepe paper from the top of the town hall in the colours of the mexican flag, and launched fireworks, which looked excellent from our very close vantage point. Quite a party!
More Cenotes
The following morning a couple of us hired bikes to cycle out to a couple of cenotes about 7km away. These were mostly-enclosed caverns, with rays of sunlight and tree roots coming in through holes in the roofs. In the first we swam and floated around on car tyres. In the second, which was cheaper yet more impressive, we were just looking around and taking some photos when a flock of local kids swarmed down the slippery steps behind us and plunged from a great height into the water, splashing down like bombs. Then we watched with horror as they found higher and higher ledges to scrabble up to and dive from. I wondered if we were about to observe Natural Selection in action. (I think they were speaking Mayan, making this the only time I actually heard anything other than Spanish. At the archaeological sites, the information panels were all in Spanish, the native language (Nauatl around Mexico City and Mayan in Yucatan), and English.)
Tulum
From Valladolid I took a bus to the East coast of the peninsular at Tulum, on Mexico's Caribean coast or the Riviera Maya as they like to call it. Further north, resorts like Cancun are highly developed with big luxury hotels, but Tulum has more rustic places to stay - mostly thatched cabins amongst the palms. I arrived with another English traveller from Valladolid and we had both bought hammocks that we wanted to try out (Yucatan is considered the world's best hammock-producing area), and we spent a couple of nights with our hammocks suspended between cocnut palms. It was perfectly comfortable, apart from the insects.
The beach is excellent, and not at all busy, though unlike Celestun on the other coast it didn't have many shells and I think the water was possibly a bit cooler too. But the thing that distinguishes Tulum from any other bit of beach is the Mayan ruins overlooking the beaches. The Mayans built a port-town here, with a defensive wall on three inland sides and cliff-top temples and defensive structures. Very picturesque, and a great place to end my stay.
15 October 2002: San José, Costa Rica
Photos!
Dad has kindly scanned in some of the Mexico photos that I posted home. Here they are.
The first couple are from Teotihuacan, the Aztec / Mexicana site outside Mexico city. This is the Pyramid of the Sun: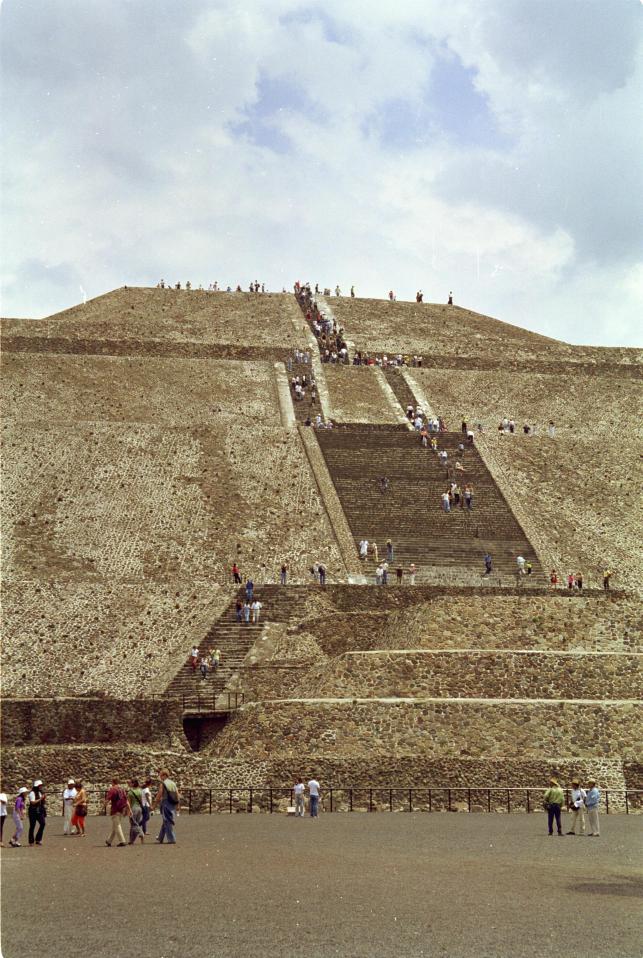 And this is a more general view looking up the Avenue of the Dead with the Pyramid of the Sun to the right.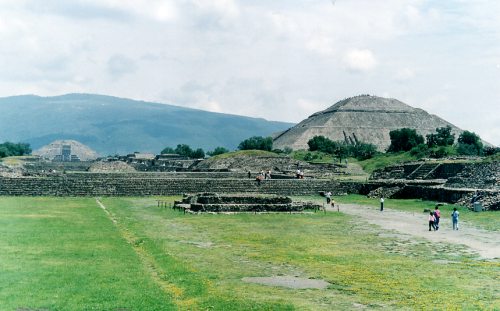 This is a view from the top of the Torre Latinamericano, one of Mexico City's tallest buildings. As you can see it is quite hazy. At the bottom right you can see a building with an inner courtyard, in a vaguely southern-spanish style. The building with the columns on the front at the top left is I think the mexico city assembly.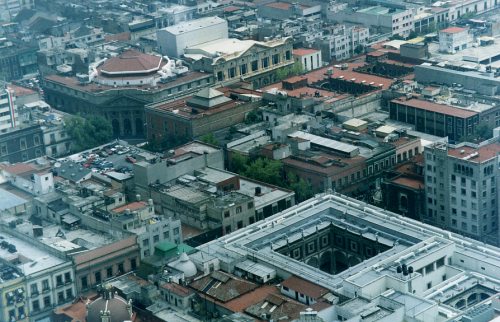 This is Celestún, from where I took the boat trip to see the flamingoes. The beach was covered in shells. This place must have suffered quite badly in the hurricane a few weeks later.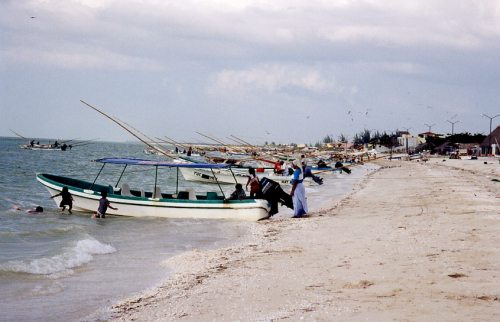 This is Chichen Itza, the Mayan site in Yucatan, showing one of the temples (note how here the temple itself on the top of the pyramid is preserved, whereas at Teotihuacan the tops of the pyramids are bare), surrounded by the Colonade of the Thousand Columns, or whatever they called it. This is taken from the top of the main pyramid.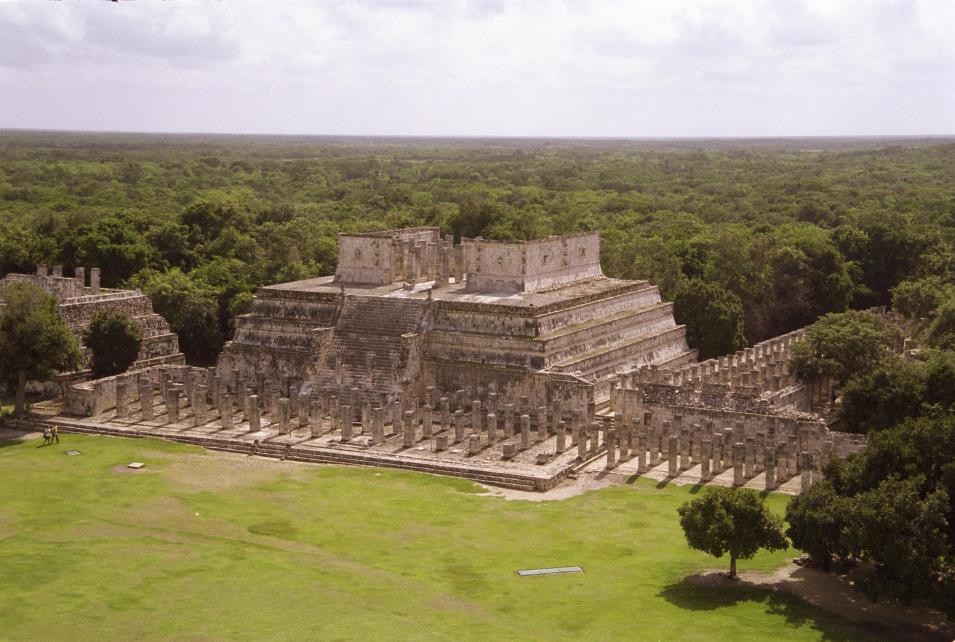 This is Tullum, the beachside Mayan place near where I stayed for my last few days in Mexico.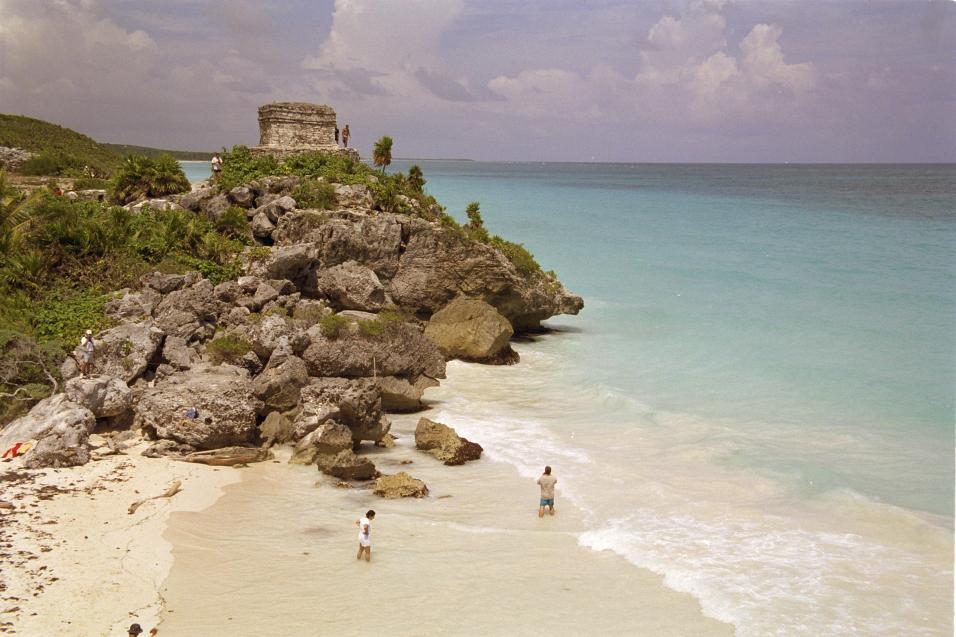 This is where I stayed in Tullum.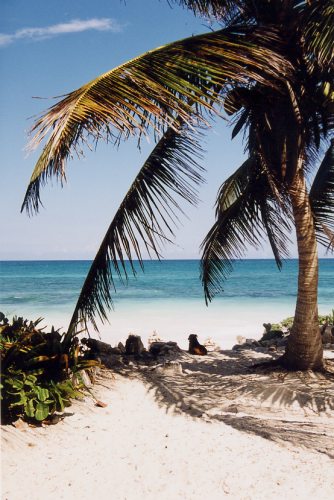 © 2002 - 2003