About Me - Contact Info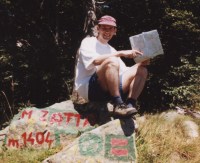 Me on top of Monte Zatta, Italy, in 2000.
Hi! I'm Phil, welcome to my web site.
Much of this site is an online photo album. Over the years I've taken a lot of photos and rather than let them all fade away unseen I've put some of the better ones here for you to see. I hope you agree that some of them are worth the wait to download. The theme is mostly mountains; I enjoy walking, scrambling and a bit of climbing, mostly in Britain with occasional trips to somewhere more exotic.
There are also some bits of software that I've written, and you can read about what I've been doing during my round-the-word trip.
Have a look around, and do please get in touch if you have any comments, or just to say Hi.
Thanks for visiting, enjoy your stay, and come again soon.

How to get in touch
Home address: 1 Petworth Street, Cambridge. CB1 2LY
Home phone: 01223 529198.
Mobile: 07906 263138.