Hiking on Tenerife, 2001
Introduction
In the first half of 2001, Britain was gripped by foot and mouth disease and the countryside was out-of-bounds to hikers. I had been to Scotland every Easter for years but this time it wasn't possible. Instead, Katherine and I flew to Tenerife and spent a very pleasant week enjoying the sun, sea and scenery.
Tenerife has really quite varied terrain, including a huge volcano in the middle, some rugged coastline and lush forests. This page should give you an impression of what we found.
Part 1 : El Baranco De Masca
We'd read about this walk in some guide books and made it our first outing. From where we were staying in Puerto de la Cruz it was quite an interesting journey up and down zig-zag roads to the village of Masca in the North West of the island. Masca is about 600m up at the head of a gorge that leads down to the sea.
If you're lazy you can probably arrange to walk down the gorge and be picked up by boat at the bottom. If you're even lazier you can just take a boat trip along the coast and look up at the giant cliffs. But we, naturally, did it the hard way.
At the top there is quite a bit of vegetation - agaves, cacti and various other things suited to the fairly hot and dry climate. As you descend the gorge gets narrower and narrower and the vegetation gets sparser. From time to time a stream appears and disappears again.
Looking up at the rock walls you get a cross-section of the volcanic geology, with old lava pierced by later intrusions. Then, after far more meandering than the map suggests, you emerge onto the beach.
The beach is rocky with big waves when we were there, but it is possible to swim from the pier - an ideal way to relax after the long walk, and in preparation for the climb back up.
Part 2 : El Teide
El Teide is the volcano that dominates the center of the island. Its summit is 3715m above sea level, making it a substantial mountain by any standards, but luckily you can start hiking from the caldera at about 2400m.
Coming up from Puerto de la Cruz you climb about 2000m, much of it through shady pine forests. Then you cross into the hot, bright caldera with its volcanic "lunar" landscape. Much of the ground is covered in volcanic sand or gravel, with other patches the result of giant volcanic "blisters" that have left behind incredibly rough rocks.
There is a good path all the way up the mountain and not an enormous number of people climbing it. However once you get to about 3550m you'll find lots of people - they've come up by cable car! Luckily this isn't visible from the hikers' path, and it does make for an easier way down than retracing your steps.
If you want to go above the cable car station to the actual summit you'll need to get a free permit in advance from an office in Santa Cruz. This is an excellent way of keeping the summit relatively uncrowded, and you don't actually need to go right to the top to see the views.
There is rather a sulpherous smell on the top, so there's no doubt you're on the top of a volcano, and you can even find little steam jets and deposits of sulphur if you look around. But I'm afraid you can't look down into a boiling cauldron of lava!
The views from the top are fantastic. From all over Tenerife you get views of the other Canary islands, often looking as if they are floating between sea and sky with hats of cloud. From the top of El Teide you can see most of them.
Part 3 : Anaga
The North of Tenerife is substantially less dry than the South, and the Anaga mountains in the North East are remarkably lush and verdant. A backbone of hills reaching about 1000m runs East-West, with spurs and slopes dropping down steeply to the sea on both sides. Various roads and paths follow these hills through light forest with excellent views.
The hills are quite close to Santa Cruz and a good walk could take the bus to somewhere up in the hills and finish at somewhere like Playa de las Tersitas, not far outside the town. We weren't quite as energetic having not fully recovered from our ascent of Teide.
As the following picture shows the main road actually follows the winding crest of the hills! This makes for spectacular views.
The paths pass through light woodland with interesting vegetation including the largest rock roses I've ever seen - they were the size of a plate!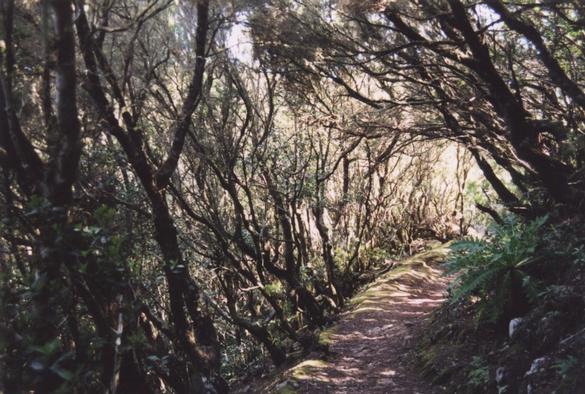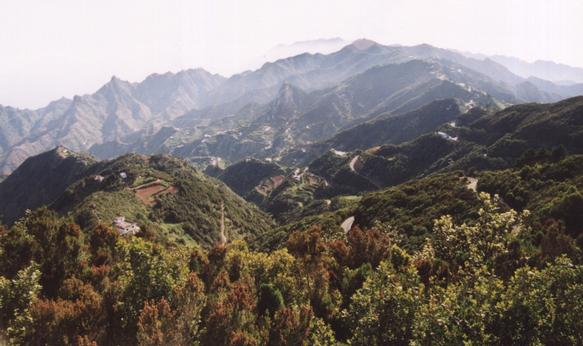 Useful Information
Maps
We took quite a few maps with us. I bought six sheets from the Mapa Militar de España 1:50,000 series, covering all of the island except the Southernmost (hot & barren) bit. These are quite respectible in terms of the contour base map, roads and place names; they also have a GPS-compatible grid which proved useful when we got lost in Santa Cruz on the way to the airport. On the other hand they are pretty useless at showing paths, and some of the sheets have a lot more sea than land on them. The useful sheets are 38-40 (1.093) "Icod de los Vinos" for Masca, 39-40 (1.094) "La Orotava" for El Teide, and 40-39 (1.090) "Santa Cruz de Tenerife" for Anaga.
We also took a 1:75,000 map of the whole island by Freytag & Berndt (ISBN 3-85084-276-2). This is much more of a road map with no grid lines, but it does have contours and it actually shows more paths than Mapa Militar sheets. This would probably have been quite adequate by itself.
Books
We took the Lonely Planet "Canary Islands" guide, which had all the usual sort of information. There is actually more about these walks in the Lonely Planet "Walking in Spain" book. But on the whole the only aspect that needed any advance planning was the permit for the Teide summit.
We also came back with a book about the fauna and flora, picked up from a stall outside the botanic gardens, which is quite useful if you like to know what sort of plant you're looking at.
Travel
Most of Tenerife is accessible by bus. The exception is El Teide, which has only two a day from the North and South of the island, not giving you enough time to get to the top and back on foot. Mostly because of this we hired a car which Katherine drove around for the week. This involved a lot of winding mountain roads, though most of them were well-constructed and none were congested. The hire charge and fuel were very cheap but parking in Puerto de la Cruz was not.
I think I'd recommend trying the buses - you can always hire a car for a day or two if you want.
Other Things To Do
If you're not spending your whole holiday hiking you'll want to find some other things to do. My recommendation is to visit the Botanic Gardens in Puerto de la Cruz. This is easily walkable from the center of the town, and is a lovely cool oasis of vegetation. It's full of all sorts of exotic plants that couldn't survive in Britain, including all sorts of things that we're familiar with from the supermarket shelves: coffee, figs, mangoes, avocados, lychees, bananas....